Schlafly Ups IPA Offerings with New Hop Allocation Series
(ST. Louis, MO) – Schlafly Beer introduces today the Hop Allocation Series, a year-round IPA experience featuring eight unique beers to be released throughout 2017. The ambitious program from the largest, locally owned independent brewery in Missouri will release a new IPA every six weeks. The Hop Allocation Series kicks-off with Black IPA, a new dark, roasty and hoppy beer that will be available starting next week until the end of March.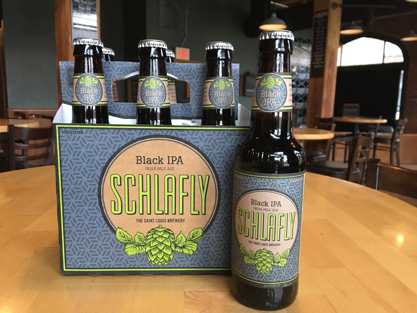 The Hop Allocation Series beers feature 12 distinct hops from nine farms and three countries. Ambassador Brewer Stephen Hale explains, "We selected the farms based on our long-standing relationships with hop farmers from across the world. We wanted the hops to shine so we somewhat started backwards. We looked at our hop allocation and found styles to highlight their distinct flavors and aromas as well as complement the overall character of the beer."
For this first Hop Allocation beer, don't be fooled by the Black IPA's stout-like appearance. This is an IPA in every sense with bold hop flavor, bitterness and earthy aromas. Midnight Wheat malt gives the ale its dark appearance and smooth, full-bodied flavor. A variety of Northwest hops lend desirable crispness, and the Chinook specifically offers bittering qualities. The combination of wheat, malt and hops result in robust and earthy aromas. The Schlafly brewing team then dry-hops with the Eureka! hop, resulting in an IPA with a hop profile that backs up the dark, malty backbone.
Schlafly Black IPA can be purchased on draft or in six-packs of bottles at the Bottleworks or Tap Room locations. The six-packs ($9.99 suggested retail) are also available across the brewery's entire distribution region. For more on Schlafly Beer's distribution and products, visit www.schlafly.com/beers/distribution.
About Schlafly Beer: Founded in 1991 in St. Louis, Schlafly Beer is the largest locally owned and independent craft brewery in Missouri, proudly offering more than 60 unique styles of craft beer. The celebrated brewing company continues to define craft with a dedication to sourcing the best ingredients, supporting local sustainability and community efforts whenever possible, and delivering a superior beer experience from year-round to limited-edition styles. In 2016, the brewery used 102 hop varietals, 77 malts and grains, 59 different spices and fruits, and 10 different yeast strains to make its beers. Schlafly Beer's production of 60,000 barrels of beer took place between its two brewery-restaurants, Schlafly Tap Room (2100 Locust St.) in downtown St. Louis, and Schlafly Bottleworks (7260 Southwest Ave.), located in Maplewood. The Schlafly Tap Room was the first new brewpub to open in St. Louis since Prohibition and is housed in a restored wood and brick building on the National Historic Register. Schlafly Bottleworks offers free weekend tours every Friday, Saturday, and Sunday from 12-5 p.m. on the hour, and every half hour on Saturdays. Schlafly Tap Room offers free brewery tours every Sunday.
www.schlafly.com – @Schlafly – facebook