Schlafly Beer Releases New Seasonal Hazy Punch IPA
(ST.LOUIS, MO) — Schlafly Beer, the original, independent craft brewery in St. Louis, announces the release of a new seasonal beer, Hazy Punch IPA (6% ABV). Brewed with Eclipse, Citra and Mosaic Hops, this beer delivers on all of the summer flavors: hazy, juicy, fruity and hoppy. Hazy Punch IPA is now availablein 6-packs of 12-oz cans across Schlafly's distribution as well as Schlafly's four brewpubs: Schlafly Tap Room in downtown St. Louis, Schlafly Bottleworks in the Maplewood neighborhood of St. Louis, Schlafly Bankside in St. Charles, MO and Schlafly Highland Square in Highland, IL.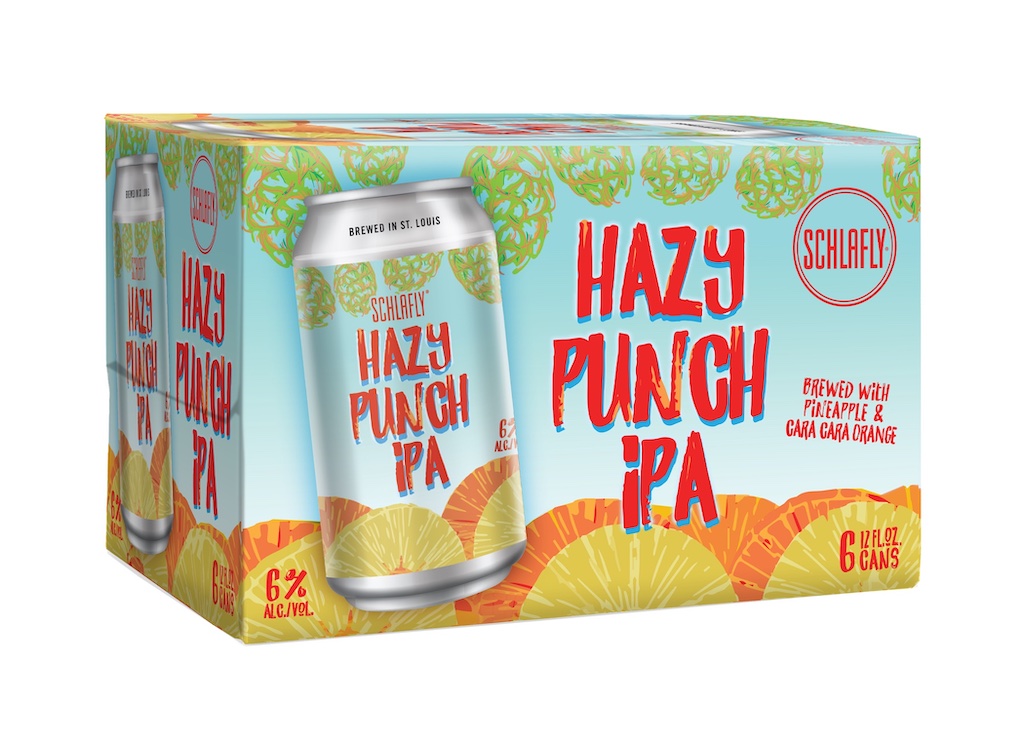 "This beer celebrates the future of Schlafly's approach to design and packaging," says Schlafly CEO, Fran Caradonna. "Not only will it come from our new canning line, but it showcases a colorful and vibrant design, which is something that customers will see from us more this year – both for seasonal releases and with Schlafly staple beers."
Hazy Punch IPA (6% ABV) is the first new summer style that Schlafly has released in recent years. The beer packs a punch with hops that lend juiciness to the hazy brew and is further amplified with the addition of Cara Cara Oranges and pineapple.
"This beer is several years in the making and has quite the backstory on Schlafly's efforts to stay at the forefront of new and experimental hops," says Schlafly Lead Brewer Jared Williamson. "It features the newest hop variety from Australia, Eclipse, and the yet to be named experimental hop HBC-586 from Yakima, along with well-known Citra and Mosaic. The flavor bursting hops offer juicy notes of mandarin and other citrus flavors."
Hazy Punch IPA is another beer off Schlafly's new canning line which expands the functionality and performance of its canning capabilities. The beer is available across Schlafly's distribution in 6-packs of 12-oz cans. For information on Schlafly Beer's distribution and products, visit Schlafly's website.
About Schlafly Beer: Schlafly Beer, St. Louis' original independent craft brewery, proudly brews a diverse collection of beers throughout the year. Our brewers use numerous hop varietals, malts, grains, fruits, natural ingredients and yeast strains from around the world to make every Schlafly beer unique. As part of our commitment to sustainability and our communities, we collaborate with local suppliers and neighborhood partners. Schlafly is a go-to across the Midwest and East Coast, and is a staple at countless fine establishments, backyards and basement bars. Join us at The Schlafly Tap Room, Schlafly Bottleworks, Schlafly Bankside and Schlafly Highland Square, as well as on Facebook, Instagram, and Twitter. For a full listing of Schlafly beers and the beer finder, visit Schlafly.com