Schlafly Beer partners with National Forest Foundation
(ST. LOUIS; April 6, 2018)—Schlafly Beer announces today a partnership with the National Forest Foundation, the nonprofit partner of the U.S. Forest Service that works to promote the health and public enjoyment of America's 193-million-acre National Forest System.
The largest, locally owned craft brewery in St. Louis chose to support the organization as part of their overall 2018 sustainability mission. Other initiatives include the recent purchase of an electric smart car (Half Pint) for Founding Brewer Stephen Hale, the continuation of Schlafly Bottleworks' Gardenworks and Wednesday Farmers Market, and more. In addition to funds to support of the National Forest Foundation's overall mission, Schlafly will support the organization's broader goals of improving watershed health by participating in stream cleans throughout their distribution footprint this spring and summer. The first takes place this Saturday with Greenway Network, Inc.
Hale explains, "It's no coincidence that the two largest rivers in the United States converge in St. Louis to provide the main ingredient for our beloved beer. The trees that reside upstream act as a quality control and productivity assurance for our waterways. By facilitating watersheds and defining riverbanks, trees do more than their share to keep the beer flowing. The National Forest Foundation promotes the health of those trees and grasslands, and we're proud to support them."
Schlafly Beer will also include information about the National Forest Foundation on packaging of White Lager 12-packs to build awareness. Schlafly will post information about each individual stream clean throughout the spring/summer on Twitter – all are open to the public so that Schlafly fans can join the initiatives. For more on Schlafly Beer's distribution and products, visit www.schlafly.com.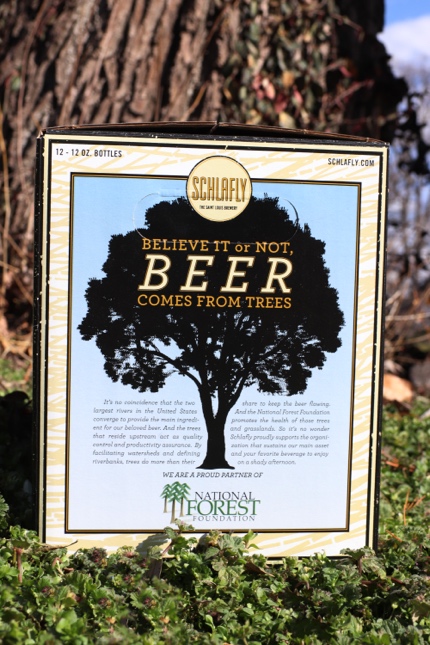 About Schlafly Beer:
Schlafly Beer, St. Louis' largest locally-owned, independent craft brewery, proudly offers over 60 unique styles of beer. Each is handmade at the Tap Room in Midtown St. Louis or Schlafly Bottleworks in Maplewood. Utilizing 102 hop varietals, 77 malts and grains, 59 different spices and fruits and 10 separate yeast strains from around the globe, Schlafly also works with local suppliers for everything from farm-fresh food to packaging and labeling. As part of its commitment to sustainability, Schlafly donates spent grain to local farmers to feed their livestock and utilizes 100% renewable energy throughout its operations. The largest Missouri-owned-and-operated beer maker offers free tours of the Tap Room (2100 Locust Street) every Sunday from12:30 p.m. to 4:30 p.m. on the hour and Schlafly Bottleworks (7260 Southwest Avenue) fromnoon to 5 p.m. every half hour on Fridays, Saturdays and Sundays. The brand continues to define craft across 12 states and throughout countless fine establishments, backyards and basement bars. Join us at either of our locations and on Facebook, Instagram, and Twitter. For a full listing of seasonal and year-round beers and for information on distribution, visit Schlafly.com.
About the National Forest Foundation
The National Forest Foundation promotes the enhancement and public enjoyment of the 193-million-acre National Forest System. By directly engaging Americans and leveraging private and public funding, the NFF improves forest health and Americans' outdoor experiences. The NFF's programs inform millions of Americans about the importance of these treasured landscapes. Each year, the NFF restores fish and wildlife habitat, plants trees in areas affected by fires, insects and disease, improves recreational opportunities, and enables communities to steward their National Forests and Grasslands. Learn more at www.nationalforests.org.