Saranac Introduces Clouded Dream, Part of High Peaks Series
(UTICA, N.Y.) — The F.X. Matt Brewing Co., brewer of Saranac, is introducing a special, limited edition brew, Saranac Clouded Dream-a hybrid IPA/Belgian White Ale. This "one off" beer was specifically designed as part of the Saranac High Peaks Series, which is the brewery's exclusive extension of the Saranac line.
The Saranac High Peaks Series is a series of special beers, limited to one single batch. These beers are much bigger, more complex, and targeted to craft beer aficionados.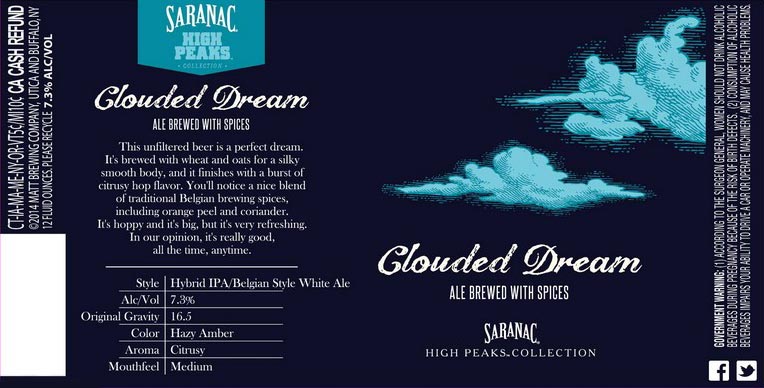 Saranac Clouded Dream is brewed with wheat and oats for a silky smooth body, and it finishes with a burst of citrusy hop flavor. You'll notice a nice blend of traditional Belgian brewing spices, including orange peel and coriander. It's hoppy and it's big, but it's very refreshing.
The idea for this beer was born out of great consumer feedback and the Saranac brewing team's unrelenting quest for quality and innovation. Clouded Dream is an amplified version of Saranac White IPA. First introduced in late 2011, it was the first White IPA commercially available. After almost a year of research and experimenting, the brewing team honed-in on the perfect ingredients for this beer style; and now they've taken the concept to a whole new level.
"Everything our consumers tell us about our beers allows us to improve each batch, continually making the beer that much better," said Fred Matt, president and 3rd generation. "This beer is a direct result of consumer feedback. At every industry event we attended, consumers told us that our White IPA had been recommended to them with highest regards. Well, if the beer aficionados really loved our White IPA, they'll relish this beer. It's all the greatness of our White IPA-amplified."
The brewery's Hop Infusion Process also brings the Citra hops in Clouded Dream to a new level. This special craft, which they refer to as H.I.P., exposes every drop of beer to hops, resulting in a brilliant burst of citrusy hop flavor in the finish.
Saranac Clouded Dream pairs well with blue cheese and spicy foods. It has 60 IBUs and 7.3% ABV and will be available in 4 packs and on draught in very limited quantities while supplies last.
Continue the conversation online. Use #Saranac and connect with F.X. Matt Brewing Company and Saranac on Facebook (www.facebook.com/Saranac), Twitter (@SaranacBrewery), and Instagram (@SaranacBrewery). For more information, visit saranac.com.
###
F.X. Matt Brewing Company in Utica, N.Y., was founded in 1888. Today, under the leadership of the third and fourth generations of the Matt family, the brewery is celebrating 126 years of brewing. Through a commitment to innovation and brewing excellence, the company has earned a reputation as one of the country's most respected brewers of craft beers, including the Saranac line. In each bottle of Saranac, you'll find exceptional quality, distinctive ingredients and a refreshing twist on tradition – the signature of the F.X. Matt Brewing Company.