San Diego Beer Week – Ballast Point Brewing Events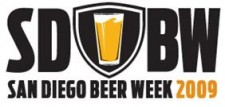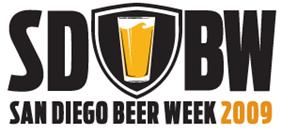 From Ballast Point Brewing, San Diego, CA.
Welcome to the First Annual San Diego Beer Week! November 6-15 2009 will go down in San Diego Brewing history as the most awesome 10 days ever. There are over 200(!) events around town this week featuring local breweries.
Events run the gamut from beer dinners, cask nights, barrel aged tastings, to learn-to-brew classes and beer education seminars. Check out www.SDBW.org for the expanded run down. There are events every single day featuring Ballast Point brews at various places around town. In addition to great outings, we are going to do our best to make each day special at our two brewery locations.
Scripps Ranch:
Monday through Friday at our Scripps Ranch Brewery, Head Brewer and Distiller Yuseff Cherney will conduct a special, deluxe brewery tour at 2pm. Although Spirits are not available for tasting, Yuseff will present an olfactory sensory evaluation of Ballast Point's Old Grove Gin and its herbal components during the tour. We will also feature an extended draft line up during the week with something special on draft each day.
Monday: Three different nitrogen beers on draft including:
Sextant Oatmeal Stout
Dry Hopped Schooner Ale
A Nitro version of our Big Eye IPA
Tuesday: Apricots and Raspberries do nice things to beer
Barmy Apricot Ale (13% ABV)
Sour Wench Blackberry Ale
Wednesday: Properly aged versions of our biggest beers
2008 Sea Monster
2008 Victory at Sea
Thursday: A CASK of Schooner Wet Hopped Ale, brewed with hops 48 hours fresh off the vine
Friday: A CASK conditioned version of our most sought after brew
Linda Vista:
In addition to offering homebrew classes on Tuesday, Thursday and Friday (all of which are SOLD OUT, sorry) our Linda Vista location has a couple of awesome draft lineups planned for Monday and Wednesday.
Monday November 9th: Beer Meets Wood
9+ Barrel Aged Beers being served for one day only. You will be able to sample 2 ounce pours for a dollar each. Single Barrel, Blends and Sours. Such as Bourbon Barrel Piper Down Scottish Ale, Brandy Barrel Aged Navigator Doppelbock, Frech Oak Syrah Aged 3 Sheets Barley Wine and Hout Guezue.
Wednesday November 11th : Hoppy Hump Day
9+ Hoppy Beers being served for one day only. You will be able to sample 4 ounce pours for a dollar each. Session Beers, Wet Hop, Double Dry Hop, India Pale Lager and more from the cellar. Look for Sculpin IPA, Big Eye IPA, Fathom IPL, Schooner Wet Hop Ale, Dorado Double IPA and a full Cask to be served.
All in all, there is something for everyone. Happy Beer Week San Diego!
Ballast Point Brewing Co. Scripps Ranch
10051 Old Grove Rd.
San Diego, CA 92131
(858) 695-BREW (2739)
Ballast Point Brewing Co. Linda Vista
5401 Linda Vista Rd.
San Diego, CA 92110
(619) 295-2337 (BEER)
http://www.ballastpoint.com
http://www.ballastpointspirits.com
http://twitter.com/bpbrewing