Saint Arnold's – Austin Scavenger Hunt, Big Batch info, & Twitter Reminders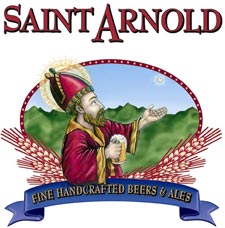 Dear Saint Arnold's Army:
Once upon a time, I brewed a beer at home.
Eager fermentations sometimes covered rooms in foam.
My heart wasn't in my day job so I changed my career,
Following my passion, I chose the job of beer!
Touring breweries around the country I learned lots of stuff,
And received enough knowledge to be dangerous.
Open now for near fifteen years, so far we have grown,
But never do we forget the fun of brewing on your own.
START BREWING YOUR BIG BATCH BREW BASH ENTRY
Homebrewers, if you haven't already, it's time to start brewing a Strong Scotch Ale to enter in the 14th Annual Big Batch Brew Bash! This is the largest single category homebrew competition in the world. It was started here in 1996 by the Kuykendahl Gran Brewers homebrew club and Saint Arnold. This is a free competition. The winning entry will be brewed as a Saint Arnold Divine Reserve release as well as entered in the Great American Beer Festival Pro-Am category for the chance to win a GABF medal! Information and entry forms will be available at the AHA rally and soon on the KGB's and our webpages. Entries must be received by May 8 at Saint Arnold, DeFalco's or Brew It Yourself. The judging and awards party will be on May 17. So get brewing!!
AUSTIN SCAVENGER HUNT! WIN A KEGERATOR!
Perhaps you live in Austin. Or perhaps you were looking for an excuse to take a quick trip this weekend or next to our state capitol. Either way, this is your opportunity to have fun and earn the chance to win a kegerator for your home! (Special thanks to kegerators.com!)
We've done scavenger hunts in Houston, but this is our first such venture outside the confines of our Gulf Coast hometown. Here's how it works. First, watch the video for clues: http://www.youtube.com/watch?v=JzSq9PzHSuo or http://www.saintarnold.com/blog/index.html Then go out, follow the clues and have a picture taken of you with the six objects mentioned in the video. You make us extra happy if you happen to be holding a Saint Arnold in your photo. Then upload the photos to any of a number of photo-sharing websites (flickr, shutterfly, Photobucket etc.) and send the link to [email protected] or print the photos and get them to us at the brewery.
The deadline for us to receive the photos is Sunday, February 22 at 11:59 PM. Make sure you include your name, email address and phone number. Only one person per photo so if a group of you are doing this, you each need to take individual pictures of yourselves with the objects.
All people submitting correct and complete entries will be sent an invitation to attend a special party in Austin. At that party, we will draw a name and award that person a home kegerator!
So here it is in summary:
Watch the video.
The proof:  Take photos of yourself with each item shown in the video.
Send us proof:  Either upload photos to a photo-sharing website and email the link to

[email protected]

or mail/bring us the photos.  Don't email us the photos or else our server will probably crash.
Deadline: Sunday, February 22 at 11:59 PM
All Correct Entries' Prize: Invitation to a special party in Austin.
Grand Prize:  A beautiful home kegerator provided by kegerators.com.
If you have any questions, please contact Lennie at [email protected].
Good luck!
TWITTER SIGNUP REMINDER
In the very near future we will be tapping a Christmas Ale cask we saved, and the only way to find out where will be via Twitter.  If you want to get started on Twitter, here are the steps:
Go to www.twitter.com to create a profile and to learn more about the site.
Click on the "Settings" tab and then click on the "Devices" tab. Make sure you have a cell phone number entered and that your device updates are clicked to "On".
Once you have created a profile go to www.twitter.com/SaintArnold and click the "Follow" button underneath our logo.  Then click the "Device updates" next to that and set to "on".
This will allow you to get text message alerts.  You can also choose not to receive alerts on your cellphone but just check frequently via your computer.
Our recent distributor switch in Greater Houston, DFW, San Antonio and Corpus Christi has been a bit chaotic but hopefully things should be returning to normal quickly. If your favorite store or watering hole has somehow fallen through the cracks, please let us know so that we can follow up on it immediately.
As always, thanks for your support!
Cheers!
The Brew Crew
Ann, Bobby, Brett, Brock, Chris, Daniel, Felix, Frank, James, John, Justin, Kathy, Kendra, Lennie, Mary, Michael, Nicholas, Nicklaus, Pedro, Phil, Sam and Vince
Saint Arnold Brewing Company
2522 Fairway Park Drive
Houston, TX  77092
713-686-9494
http://www.saintarnold.com
Tours Every Saturday at 1:00 pm