Saint Arnold Introduces 5 O'Clock Pils – The Perfect Anytime Beer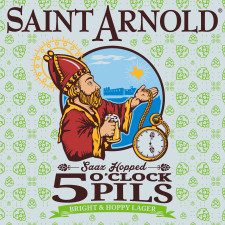 (Houston, TX) – Saint Arnold brewers came home from their annual hop selection trips to the Czech Republic with more than just Saaz hops. They also had acquired a love for fresh Bohemian pilsners. Because of this love, Saint Arnold Brewing Co., the oldest craft brewery in Texas, is releasing its latest year-round offering, Saint Arnold 5 O'Clock Pils. Available on draft and in 12 ounce cans, Saint Arnold 5 O'Clock Pils will begin rolling out to stores, restaurants and pubs throughout Texas, Louisiana and Florida today.
Emphasizing the flavor and aromatic qualities of Saaz hops, Saint Arnold 5 O'Clock Pils harkens back to the origins of the style which was born in Pilzn almost 300 years ago. It is bright and hoppy with a distinctive Saaz hop nose and a rich, malty body. It was a big hit when originally brewed as a special release in Saint Arnold's Icon Series in 2013, and the surprisingly strong demand prompted Saint Arnold to add it year-round. It is Saint Arnold's first year-round lager.
"We released Saint Arnold Summer Pils 19 years ago, and it is a 6-time medal winner at the Great American Beer Festival, so we have been brewing lagers for a long time," said Saint Arnold Founder/Brewer Brock Wagner. "Saint Arnold 5 O'Clock Pils is the Swiss Army Knife of our beer family – it is appropriate for a lot of different occasions and accessible to a lot of different palates."
The popular Saint Arnold Summer Pils will remain a staple of the brewery's rotating seasonal lineup.
With Saint Arnold 5 O'Clock Pils, Saint Arnold's brewers took care to use traditional methods for heating the mash to achieve a rich, malty body. They removed a portion of the mash, boiled it, and then mixed it back in. This process, called 'decoction,' results in a slightly richer bodied beer by causing caramelization that deepens the beer's color and lowers the fermentability of the sugars. The brewers' selection of Saaz hops was also a tip of the cap to tradition. Saaz is a traditional aroma hop that has been grown in the Czech Republic for centuries.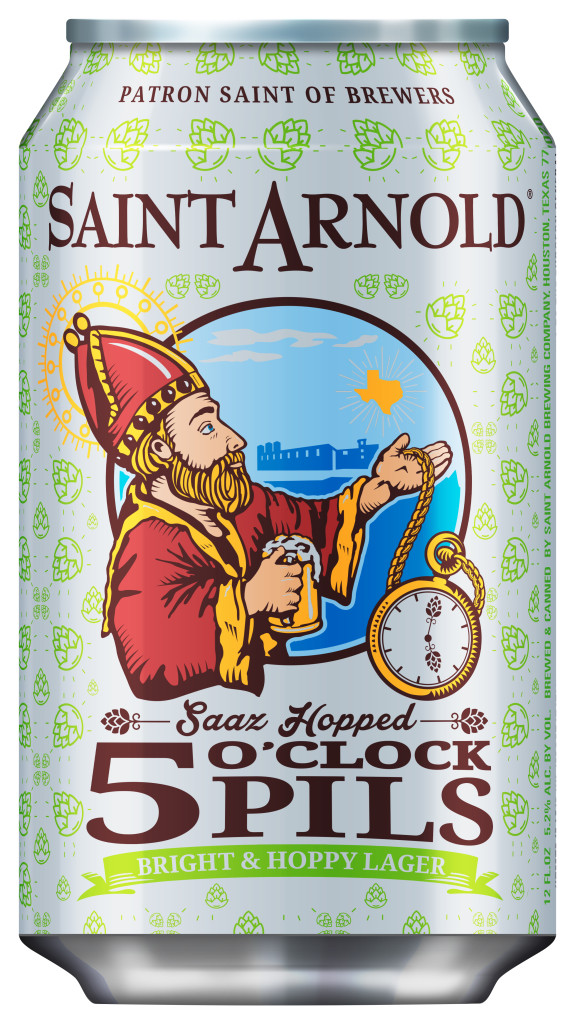 While craft pilsners represent only about two percent of total craft beer sales, according to market research firm IRI, it has been the fastest growing craft beer style in recent years. Looking at the total beer market, lagers represent more than 80 percent of all beer sold by volume, which suggests that craft pilsner have plenty of room to grow.
"A big reason craft lagers and craft pilsners are growing is an appreciation for brewing tradition and an increased understanding of how difficult it is to consistently brew high quality craft lager," said Wagner. "Brewers tend to gravitate towards enjoying light, flavorful beers at the end of the day. Actually, at any time of the day! Saint Arnold 5 O'Clock Pils is perfect for that."
It's Always Time
Saint Arnold 5 O'Clock Pils owes its name to the old adage, "It's five o'clock somewhere," which suggests that it's always time for a good time. Houston-based Lopez Negrete Communications designed the label art, which features the familiar profile of Saint Arnold of Metz, the Patron Saint of Brewers. He is holding a pocket watch with hops for hands that reads five o'clock. A silhouette of Saint Arnold's historic north Houston brewery is visible in the background.
Saint Arnold 5 O'Clock Pils is best enjoyed at 38° to 50°F.
5 O'Clock Pils Specifications:
• Original gravity: 1.053 • Final gravity: 1.011 • Alcohol: 5.2% ABV • Bitterness: 40 IBUs
About Saint Arnold Brewing Company
Saint Arnold Brewing's 16 brews are made and sold by the company's staff of 80 dedicated employees. Saint Arnold was listed by USA Today as one of the "10 great places to see what's brewing in beer," and Smart Meetings magazine named it among the "Top 5 breweries to host an event." Saint Arnold is located at 2000 Lyons Avenue and its brewery tour and tasting is offered every weekday at 3:00 P.M. and Saturdays starting at 11 A.M.
www.saintarnold.com – @SaintArnold – Facebook