Saint Arnold Icon Gold Release Details
(HOUSTON,TX) – Saint Arnold Brewing Co., the oldest craft brewery in Texas, today releases Saint Arnold Icon Gold – Belgian-Style Wit, a beer style that many credit with spawning the Texas craft brewing industry. Saint Arnold Icon Gold – Belgian-Style Wit is a traditional interpretation of the 400-year-old witbier style. Witbiers were largely forgotten in post-war Europe before single-handedly being resurrected by the late Pierre Celis. He was a world class brewer who established and sold the brewery now known as Hoegaarden in Belgium before relocating to Austin and establishing the Celis Brewery.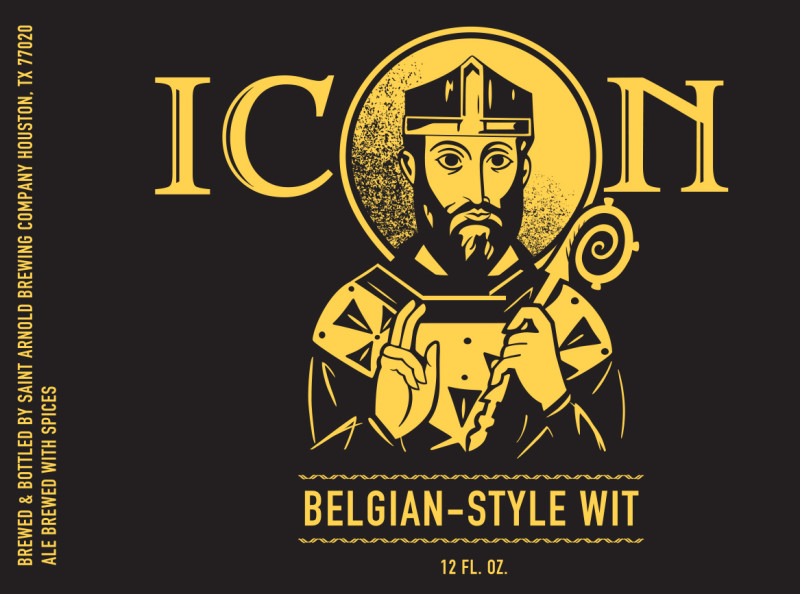 Saint Arnold Icon Gold – Belgian-Style Wit builds on Pierre Celis' ideas. It provides the familiar aromatics of coriander and orange peel to add spice and tantalize the nose, but it has a strong malt backbone due to the addition of oats to the wheat and pilsner malt bill.
"Pierre Celis is one of the first people I visited when I decided to open a brewery," said Brock Wagner. "Saint Arnold Icon Gold is a tribute to Celis and his pioneering of craft brewing in Texas. It is a refreshing beer that is a perfect match for the warm weather along the Gulf Coast, even though our weather doesn't bear much resemblance to Belgium's."
The witbier style is described as 'gentle' and 'subtle,' which may explain why it took several years to perfect the recipe for Saint Arnold Icon Gold.
"Getting the herbal, citrus and spicy notes from the coriander and orange peel dialed in took some time," said Brewer Stephen Rawlings, whose resume includes Saint Arnold Divine Reserve No. 13, Bishop's Barrel No. 4 and Saint Arnold Boiler Room Berliner Weisse. "The result is a nice balance with no one piece standing out or overwhelming the others."
Saint Arnold Icon Gold will start arriving in pubs, restaurants and retail stores today, as supplies of Icon Green – Amarillo Hefe run out. The Saint Arnold Icon Series is a line of rotating beers that complement the brewery's year-round and seasonal offerings. Saint Arnold Icon Gold – Belgian-Style Wit will be available on tap and in four-packs of 12-ounce bottles through October 2015.
Specifications:
–  Original Gravity: 1.049
–  Final Gravity: 1.009
–  Alcohol Content: 5.2% ABV
–  Bitterness: 17 IBUs
Saint Arnold Icon Gold features a striking metallic gold and black label with an image of the brewery's namesake, St. Arnold of Metz, the patron saint of brewers. The next beer in the Saint Arnold Icon Series will be an American Roggenbier, which is scheduled for release in the October/November timeframe. Learn more about the Saint Arnold Icon Series at http://www.saintarnold.com/beers/icon.html.
On Twitter, follow @saintarnold
On Facebook, like www.facebook.com/saintarnold On Instagram, follow @saintarnoldbrewing
About Saint Arnold Brewing Company
Saint Arnold Brewing's 16 brews are made and sold by the company's staff of 74 dedicated employees. Ranked 46th on the Brewers Association list of top craft breweries, Saint Arnold was listed by USA Today as one of the "10 great places to see what's brewing in beer," and Smart Meetings magazine named it among the "Top 5 breweries to host an event." Saint Arnold is located at 2000 Lyons Avenue and its brewery tour and tasting is offered every weekday at 3:00 P.M. and Saturdays starting at 11 A.M. For more information on Saint Arnold's eight year-round and five seasonal beers as well as root beer, log on to www.saintarnold.com.