Saint Arnold Homefront IPA Released This Thursday, May 24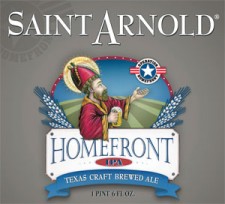 Single Release Homefront IPA is coming out this Thursday, May 24
To commemorate Memorial Day, Saint Arnold Brewing is releasing a special beer with 100% of the profits going to Operation Homefront, an organization that provides emergency financial and other assistance to the families of our service members and wounded warriors. Here is the history on this beer:
Last year, Chris Ray, while pitching for the Seattle Mariners, contacted Matt Lincecum who has a microbrewery in Seattle (Fremont Brewing Company) about this project. In addition to pitching, Chris is a homebrewer. He had a recipe and a cause. He approached Matt about the project and together they rolled out Homefront IPA in Seattle and raised $10,000 for Operation Homefront.
Ingredients:
Malt: This beer is brewed with a combination of pale 2 row, aromatic and caramel malted barley.

Hops:We bitter with Cascade and Chinook, finish with Cascade and Chinook and dryhop with Cascade and Chinook. The hops lend a pleasant bitter and a citrusy finish.

Yeast: We use our house Saint Arnold yeast to give the beer a little more depth and fruitiness.

Oranges: We added sweet orange peel in the whirlpool and then added fresh orange zest to the bright beer tank after filtration. The oranges were zested by volunteers during a marathon zesting session.

Homefront IPA is pure, with no additives or preservatives. In order to maintain the freshest flavor possible, we do not pasteurize our beer. Many of its subtle flavors are delicate and would not stand up to the heat of pasteurization. We recommend that this product be stored cold to avoid any degradation in flavor.

Specifications:
Original Gravity: 1.061 (15.5° Plato) – Color: Golden Amber – Bitterness: 50 IBU – Alcohol Content: By weight – 5.2%; By volume – 6.5%
This year, Matt contacted us (he's from Houston originally) to see if we would like to join him and a few other breweries he contacted in brewing this beer. He gave us the recipe and we set about brewing it. As we were donating all of our profits on this beer, we also went out to our suppliers and distributors to ask for their help and were met with an overwhelming response.
Being from Texas, we want to raise more than any other brewery for this worthy cause. Our goal: $100,000. With your help, we believe this is possible. Your support will take the form of purchasing and drinking this beer. There is only one batch, so when it's gone, it's gone. (Of course, feel free to enjoy one of our other beers from which we get to keep the profits after that!). This beer was brewed with pale and caramel malts, Chinook and Cascade hops, orange peel and orange zest, and last but not least, 6 maple Louisville sluggers in the bright beer tank.
Description:

Homefront IPA is an IPA first brewed by Fremont Brewing Company and major league pitcher Chris Ray. It is brewed to benefit Operation Homefront an organization that provides emergency financial and other assistance to the families of our service members and wounded warriors.

The beer is a drinkable West Coast IPA. It pours a golden amber with a big white head. It has a big citrusy nose with a slight note of fresh oranges.

Malty and sweet up front. Lighter bodied than might be expected. The hop bitter, orange peel and hop flavor seem to all kick in at the finish. Remarkably easy to drink for an IPA with the orange notes more of a secret ingredient than a dominant flavor. Quite thirst quenching making it perfect for enjoying during Memorial Day weekend.

Consume this beer fresh as the hop flavor is best enjoyed this way.

We also want to thank all of our suppliers and distributors who have contributed so much to this cause:

| | |
| --- | --- |
| Action Box | Ben E. Keith |
| Bottle Shop | Capitol Beverage |
| Brewers Supply | Del Papa Distributing |
| Hops Direct | Mike Hopkins Distributing |
| Inland Label | Silver Eagle Distributors |
| Louisville Slugger | |
| Mark Trece, Inc. | |
| Primer Grey | |
| Rahr Malting | |
Homefront IPA will be available in 22 oz bottles only (no draft or 12 oz bottles). It is being released this Thursday, May 24, but some stores won't receive it until Friday and a few won't receive it until next week. When it's gone, it's gone.
www.saintarnold.com – @SaintArnold – Facebook