Saint Arnold Bishop's Barrel #4 Weizenbock Out Next Monday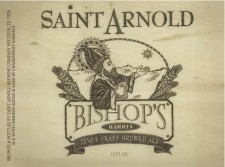 (Houston, TX) – A week from Monday, we will be releasing the latest in our barrel aged series of beers. BB4, developed by Saint Arnold brewer Stephen Rawlings, is a Weizenbock aged in bourbon barrels with cocoa nibs. And it is delicious. There are notes of bourbon, chocolate and banana in this beer – something akin to a banana split with chocolate ice cream that perhaps grandpa spiked with a little bourbon.
The beer out of the barrels was tremendous, but we noticed that the esters from the Weizen yeast had pretty much vanished. To bring these flavors back, we brewed up a fresh batch of Weizenbock and blended a very small amount into the beer from the barrels. The blend returned the essence of the underlying beer to the dominant flavors that came from the barrel aging process.
Because of the small amount of beer produced from the barrels, Bishop's Barrel releases are only available at your favorite bars and restaurants.
We also will be releasing at the same time – on draft only – the Saint Arnold Weizenbock that we used in making BB4. There is a very limited number of these kegs, but we hope you will be able to try the Weizenbock and BB4 side by side to see how this beer evolved in barrels. By the way, the base Weizenbock Stephen developed is exceptional on its own.
For more specifications on Bishop's Barrel No. 4, please click here.