Saint Archer Releases New Variety 12 Pack
San Diego, CA – Saint Archer Brewing Co. is proud to announce another way to enjoy their beers: The new 12-Can Variety Pack. Inside, loyal fans of Saint Archer—or craft beer fans looking to explore the range of a new brewery-can experience much of the taste spectrum that has spurred the brewery's incredible growth.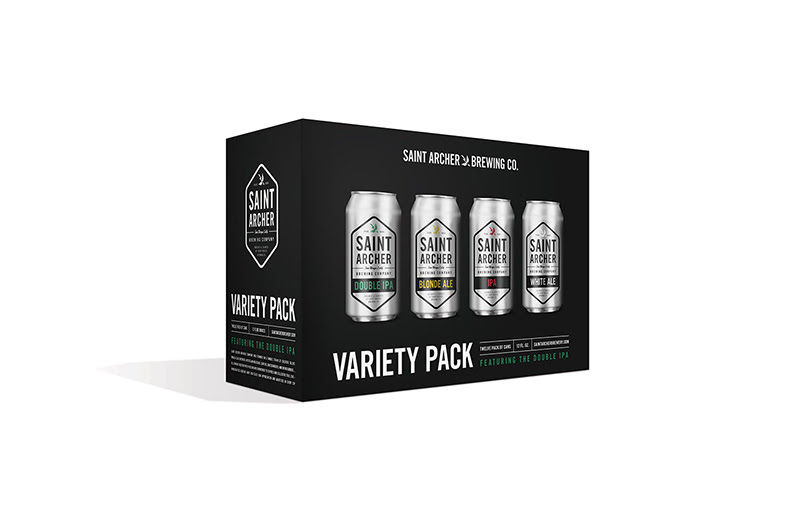 The new Variety Pack contains the following 12 oz. beers:
3 IPA
3 White Ale
3 Blonde Ale
3 Double IPA
"The Variety Pack is the ONLY place consumers will find our Double IPA in a can," says Yiga Miyashiro, Director of Brewing Operations at Saint Archer. "It's also a great chance for beer drinkers to 'expand their horizons' a bit without committing to a full six-pack of any one style."
The featured Double IPA took a Silver Medal at this year's San Diego International Beer Festival, the largest beer gathering on the west coast, and was named Best Double IPA in San Diego by San Diego Magazine, but the Double IPA is not the only award winning beer in the package. The White Ale recently took home the Gold at the 2014 Great American Beer Festival in the Belgian-Style Witbier category, and the Blonde has a Bronze Medal under the belt as well from the San Diego International Beer Festival.
"If you like craft beer, we're sure you'll find a few new favorites this way," adds Miyashiro.
The 12-can Variety Pack will be available at select retailers starting November 10th, 2014.
Saint Archer Brewing Company was founded on a unique strain of creative talent: World-class brewers. Artists and musicians. Surfers, skateboarders, and snowboarders…. All coming together with passion and commitment to express our collective true love — handcrafted beer. Saint Archer's been a long time in the tank and we hope you taste our appreciation and gratitude in every sip.
www.saintarcherbrewery.com – @saintarcherbrew – facebook