Rogue Viktory Ale Celebrates PSU Class of 2015
(Portland, OR)  – Portland State University (PSU) graduates will receive congratulations from more than just family and friends at commencement on June 14th. Rogue Ales, headquartered on the Oregon coast in Newport, will mark the occasion with a custom beer dedicated to the 5,800 graduates of the class of 2015.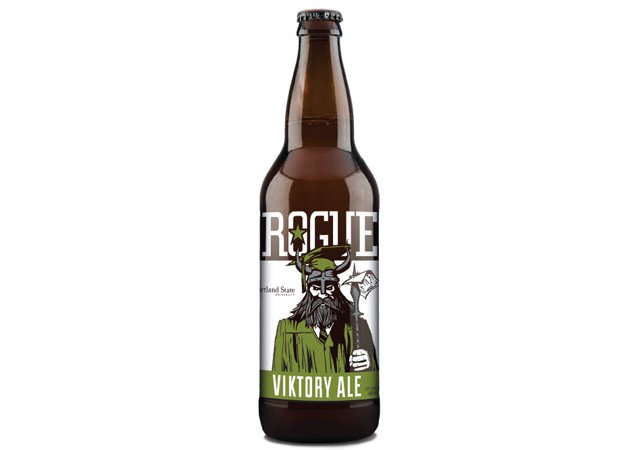 "PSU students have been a vital part of our Portland community; as friends, neighbors and customers. They have spent a lot of time doing homework and studying for exams at Rogue Hall, we're virtually on the campus map," said Rogue President Brett Joyce. "We wanted to say congratulations with a beer just for them. They certainly earned it."
"Ultimately, PSU exists to serve Oregonians and contributes to the economic vitality of the state by providing jobs today and training the workforce of tomorrow," said Wim Wiewel, president of PSU. "Rogue recognizes the importance of higher education in making our community a better place to live and work. And they make darn good beer."
Viktory Ale, serigraphed with the image of PSU's mascot, celebrates Rogue's and PSU's commitment to think local, buy local and learn local. Crafted with proprietary ingredients grown at Rogue Farms in Oregon, Viktory Ale is deep honey in color with malty aromas, fruity notes and a long, spicy finish.
Viktory Ale will be available two weeks prior to finals and just after the last pangs of senioritis. The Dare, Risk, Dream Graduation party for Viktory Ale will be held at Rogue Hall on May 21st from 5-7 pm. This ale will be for sale at Rogue Pubs and the PSU Bookstore.
About Portland State University
Oregon's urban research university, recognized for excellence in sustainability and community engagement, is located in the heart of downtown Portland. PSU's motto is "Let Knowledge Serve the City," and it offers more than 200 degrees with opportunities to work with businesses, schools and organizations on real world projects.
About Rogue Ale & Spirits
Rogue Ales & Spirits is an agri-fermenter founded in Oregon in 1988, as one of America's first microbreweries. Rogue has won more than 1,700 awards for taste, quality and packaging and is available in all 50 states as well as 50 countries. Since 2008, Rogue has remained committed to saving the terroir of Oregon hops, barley, rye, wheat, honey, jalapeños and pumpkins one acre at a time by growing their own.