Rogue Introduces New Crustacean Barleywineish Imperial IPA
Newport, OR – From the moment we opened our brewery in Newport, Oregon 25 years ago, seafood and fishing became part of Rogue's DNA. Rogue's first pub on Bayfront Blvd – with our brewery out-back in the garage – was in the heart of Newport's working seafood district. Mo Niemi, our first landlord, challenged us to "Feed the Fishermen," or give back to our communities in all that we do.
With that history in mind, John Maier – our Brewmaster – wanted to create a beer that defied style definitions and paid homage to our roots. The result was a remarkably balanced ale that became a cult favorite in our Newport brewpub. But what to call it? It's not quite a barley wine and not quite an Imperial IPA, but who really cares about putting beers into narrow categories?
New Crustacean Barleywineish Imperial IPA Sorta is a tribute to our early days in Newport, the seafood industry that supports our community, the ocean that surrounds our brewery and the fishermen who helped us build the brand. New Crustacean Barleywineish Imperial IPA Sorta is inspired by the sea, but begins in the dirt with products grown and harvested at Rogue Farms in Independence and Tygh Valley, Oregon.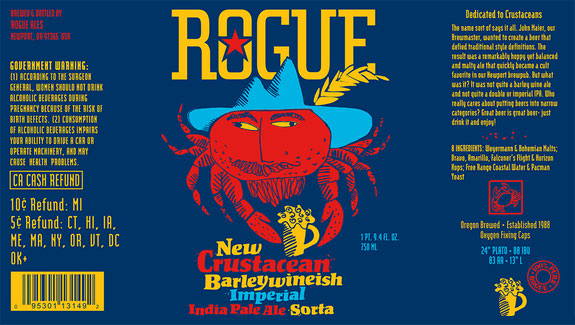 New Crustacean Barleywineish Imperial IPA Sorta will be available nationwide in blue 750 mL bottles February 1st, 2014.
Rogue is a revolution that expresses itself through world class artisan ales, lagers, stouts, porters, meads and spirits. From ground to glass, Rogue is committed to saving the terroir of Oregon hops and barley, one acre at a time, by growing our own.