Roadhouse Brewing Introduces Mountain Jam 8
(JACKSON HOLE, WY) – Jackson Hole's Roadhouse Brewing Co. introduces Mountain Jam Vol. 8 (6.8% ABV), the latest in its ongoing series of musically-inspired brews. A smooth and juicy Hazy IPA, Mountain Jam Vol. 8 was created in partnership with the celebrated bluegrass-influenced Americana band Railroad Earth.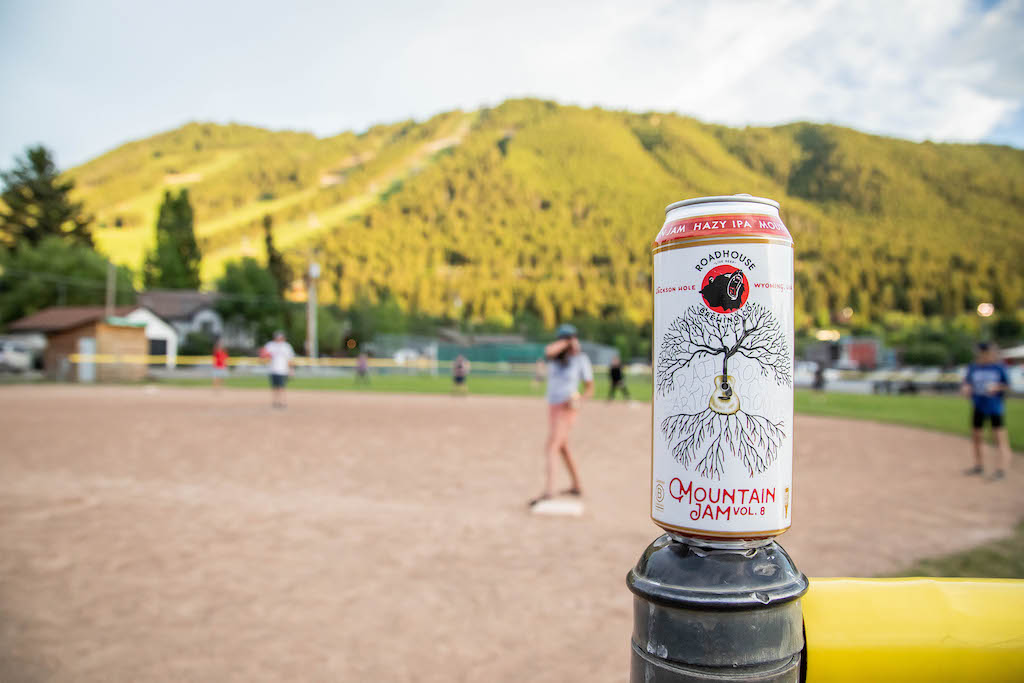 "The best way I can describe this beer is tropical fruit punch. Red fruits, mango and papaya. Subtle hints of strawberry and coconut – but not in an overpowering synthetic sun tan lotion way – shine through along with a bit of passionfruit," says Max Shafer, Roadhouse Brewmaster. "This beer is velvety smooth and has a wildly unique flavor and mouthfeel of which I am attributing to the Talus and the Cashmere hops."
"This is one of our favorite projects every year. Each year we get to connect with a new band that we think truly matches our ideals of what it means to Live Deep. This year was no different. Pairing with Railroad Earth on our Mountain Jam 8 beer collaboration just made perfect sense," says Roadhouse Co-Founder Colby Cox.
Adds Railroad Earth, "We're all really excited to share Mountain Jam 8 with fans of Railroad Earth. Everyone at Roadhouse involved us throughout from the recipe to the look and understands what we try to convey as a band. We've always tried to focus on doing what we love while trying to leave the world better for it, and clearly Roadhouse does the same. Enjoy!"
To locate the new releases, or any Roadhouse products, visit the Roadhouse Brew Finder.
###
About Roadhouse Brewing Co. | www.roadhousebrewery.com
Built upon its two founders' unique backgrounds as an award-winning home brewer and noted restaurateur, Roadhouse Brewing Company draws inspiration from the culinary and craft worlds, its home base in the iconic mountain town of Jackson Hole and its independent spirit – making the brewing facilities a daily hub for innovation and collaboration. Roadhouse was awarded Best for the World™ B Corporation, ranking in the top 5% of all B Corps in its size group worldwide for sustainable business practices. Now distributing on and off-premise in Wyoming, Idaho, Colorado, Utah, Montana and California. For more information on Roadhouse Brewing Company, call 307.264.1900 or visit www.roadhousebrewery.com  and connect on Instagram @roadhousebeer and Facebook.
About Railroad Earth | http://railroad.earth/
For over two decades, Railroad Earth has captivated audiences with gleefully unpredictable live shows and eloquent and elevated studio output. The group introduced its signature sound on 2001's The Black Bear Sessions. Between selling out hallowed venues such as Red Rocks Amphitheatre in Morrison, CO, they've launched the longstanding annual Hangtown Music Festival in Placerville, CA, and Hillberry: The Harvest Moon Festival in Eureka Springs, AR—both running for a decade-plus. Sought after by legends, the John Denver Estate tapped them to put lyrics penned by the late John Denver to music on the 2019 vinyl EP, Railroad Earth: The John Denver Letters. Beyond tallying tens of millions of streams, the collective have earned widespread critical acclaim from David Fricke of Rolling Stone, American Songwriter, Glide Magazine, and NPR who assured, "Well-versed in rambling around, as you might expect from a band named after a Jack Kerouac poem, the New Jersey-built jam-grass engine Railroad Earth has let no moss grow under its rustic wheels."