River North Brewery Releases Fancy Effing Stout This Weekend
(Denver,CO) – This Saturday August 29th at 1pm, River North Brewery will release Fancy Effing Stout, an imperial stout aged in Manhattan cocktail barrels. These rare casks formerly held rye whiskey, sweet vermouth and a dash of bitters.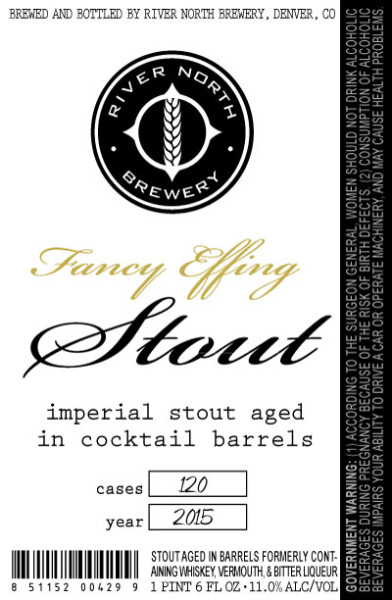 Jet black and robust as hell, Fancy Effing Stout is an exercise in narcissism, the bottle you break out when you want your friends to know you're better than them.
"This stout embodies a level of sophistication – and a bit of hubris – that's helped define us as a brewery," Founder and Head Brewer Matt Hess said. "Once the idea for a cocktail-barrel-aged imperial stout was hatched, the name was inevitable."
River North will pour drafts of Fancy Effing Stout at the taproom release party Saturday starting at 1pm. Bombers to go will cost $15 with a half-case limit. More bottles will hit store shelves in Colorado following the release. While Fancy Effing Stout delivers on its name when fresh, it's also a necessary addition to any respectable cellar.
Matt and Jessica Hess opened the award-winning River North Brewery in February 2012.  Located in the heart of the RiNo district, Denver's premier craft brewing neighborhood, River North focuses on Belgian-style and barrel-aged beers. The brewery was recently named 2015 Brewery of the Year in the Best of Craft Beer Awards.  Follow River North on Twitter/Instagram (@rivernorthbrew) and Facebook (facebook.com/rivernorthbrewery) for the latest insights.