Rhinegeist Brewery Says "Welcome Back Dad"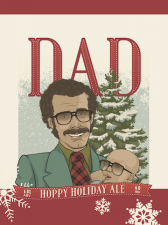 (Cincinnati,OH) – As the frosty morning air rushes by your cheeks and the days begin getting shorter, there is no doubt that winter has arrived. No need to worry though because Dad is back. This Hoppy Holiday Ale balances crisp hops with juicy malts like a well-worn flannel embraces the cold early dark days of winter. It's time to wrap yourself in a warm quilt, toast your toes in the fire and enjoy our new seasonal beer with that special someone.
In other news, many of you have recently reached out asking about getting your hands on some Franz and Zen cans. While we have stopped brewing these beers for now, our sales team in the field has made note of a few locations where you can snag the last couple of six-packs. The list below contains a few of these locations. Act fast because these beers are sure to fly off the shelves.
Zen
Kroger- Springfield Pike
Loveland Quick Stop
Remke Harrison
Larry's Foodmart
Sunoco Westbourne Dr.
BP Western Hills
Shell Harrison Rd.
Harvest Drive Thru
Shell Express Mart
Whitakers Drive Thru
Shell Station – Harrison
Fountain News
Winners Market
Franz
Kroger-Springfield Pike
Loveland Quick Stop
BP Loveland
Remke Harrison
Mobil Station Winston Road
Remke Highland Ridge
GoCo Ridge Rd.
Whitakers Drive Thru
Shell Station – Harrison
Fountain News
Winners Market
Smile Drive Thru
~Stay warm and drink fresh beer~
Sincerely,
The Rhinegeist Team