Reunion Beer Kicks Off 2009 Fundraising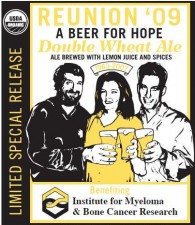 Reunion – A Beer for Hope today launched its 2009 fundraising campaign by commemorating the birthday of project co-founder Virginia MacLean with the first annual Reunion Day of Hope.
Reunion was created in 2007 by MacLean and former Pete's Brewing Company co-workers Alan Shapiro and Pete Slosberg. 100% of the profits generated by the sale of Reunion as well as independent donations benefit The Institute for Myeloma & Bone Cancer Research www.imbcr.org.
"Virginia was wholeheartedly committed to IMBCR and understood the importance of bringing hope to others," noted Alan Shapiro now of SBS Imports. "Commemorating her birthday with A Day of Hope to kick off our annual fundraising campaign just seemed to be the most fitting tribute."
This year Reunion will be a Double Wheat Ale with a hint of lemon. It will be available exclusively in draft format in selected markets to be announced in June. Regional brewing partners for 2009 include Bison Brewing in California and Terrapin Brewery in Georgia.
"Though we won't have Reunion available in a bottled format in wide distribution this year, we hope those in the beer community will donate the $5 or $10 they may spent on the beer directly to IMBCR," added Pete Slosberg. "Every penny of those donations go directly to IMBCR and are the best way to help us fulfill the mission of bringing hope to others."
More information or to make a donation please visit www.reunionbeer.com.
Further information on The Institute for Myeloma & Bone Cancer Research can be found at www.imbcr.org.