Release Details for Russian River Beatification Batch 4 and 5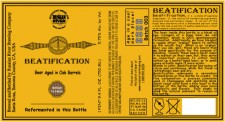 Here is an excerpt from Russian River's latest blog entry, in which they share details on how to snag some limited run Beatification 4 and subsequent Batch 5.  This is a beer I haven't had more than half a sip of, so you know…I've been good this year, and Christmas is around the corner…Cheers!
Vinnie said he is finally ready to release Batch 4 Beatification. It's a VERY small batch so we will be selling it only at our brewpub, and limiting it to 2 bottles per person. We bottled ALL of it so it will not be available on draft, but you are more than welcome to drink it at the pub as we will be keeping some bottles cold for your immediate enjoyment! The price is $15 per 375 ml bottle and makes great stocking stuffers! Batch 4 Beatification will be released on Monday December 19th at 11am when we open. If you can't partake in this batch, we will be bottling Batch 5 (a much larger batch) in January 2012, which will be released in the Spring. Vinnie really wants me to tell you we are installing a new Coolship once we empty the Batch 5 Beatification barrels at the pub. Clearly, he is very excited! Merry Christmas, Vinnie, for about the next 10 Christmases!