Pizza Port & The Full Pint Executive Member Can Release 7/21/18
(Carlsbad, CA) – Last summer, our friends at TheFullPint.com teamed up with Pizza Port Carlsbad to create a draft only double IPA named Executive Member, for their milestone 10th Anniversary Celebration. The beer had such an overwhelming reception from those that tried it that we decided it was time to bring the band back together for The Full Pint's 11th Anniversary, but this time, in cans.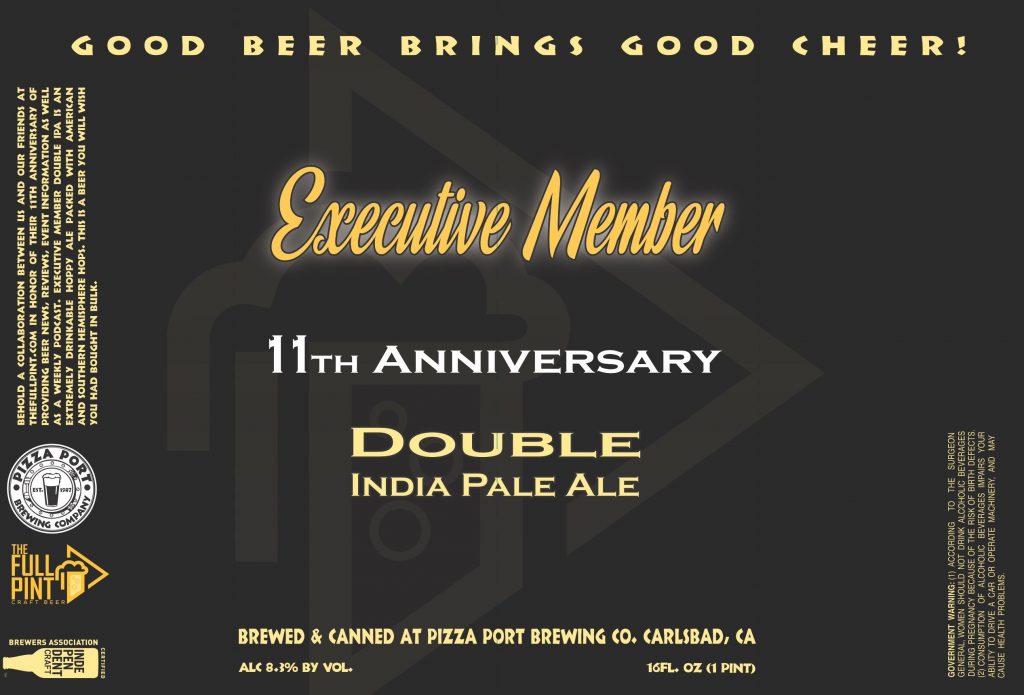 Executive Member Double IPA is an extremely drinkable hoppy ale packed with American and Southern Hemisphere hops. This is a beer you will wish you had bought in bulk.
The Full Pint crew is in the midst of an 11 stop collaboration tour, and will be stopping by our San Clemente location on July 21st as we release six packs of Executive Member Double IPA, and limited quantities will be available at all other Pizza Port locations, of course, while supplies last.
CLICK HERE TO READ ABOUT COLLAB #1 of 11 with FIELDWORK BREWING ON 7/7
The Full Pint has also talked us into selling our Fest Pizza for this very special occasion. For those not familiar, The Fest Pizza is a special pie we make for our annual Strong Ale Festival. This pizza is loaded with cheese, bratwurst, sour kraut, red peppers and a special spicy brown mustard sauce. For those who know, you're welcome, for those who have never tried it, you are in for a special treat.
About Pizza Port Brewing
In March of 1987 Gina and Vince Marsaglia, a pair of siblings in their 20′s, bought a struggling pizza place in the sleepy coastal town of Solana Beach, just north of San Diego.  Early on, Vince took advantage of free space in the restaurant's storage area to dabble with home brewing. The hobby took off and at the urging of friends and fans, Vince and Gina decided to go into the brewpub business. Pizza Port offered its first craft-brewed beers to patrons in 1992 and quickly gained a reputation in San Diego's growing craft beer scene.
About The Full Pint
The Full Pint has been a trusted place for craft breweries and those who want information on craft beer for over 10 years now. The Full Pint is an independently owned niche website that features beer news, beer reviews, beer event listings, opinion articles on beer and a podcast where we have fun conversations with important people in the beer industry.
We pride ourselves on being a free platform for small, medium and large craft breweries to get their good news out, and a free resource for people who love craft beer to get the latest scoop.
We have some strong opinions on the beer industry landscape, and also a fun tone when covering our favorite drink, and that's what separates us from other websites that cover beer.
The Full Pint is supported by advertisers, mostly comprised of those with beer related products and services as well as those who share what we offer on a daily basis to other like-minded people.