Pipeworks Brewing's Citra Ninja Named Best Craft Beer of 2012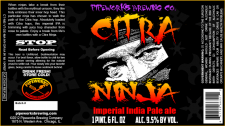 In what has become a great tradition here at The Full Pint, we are proud to announce that Chicago's very own PipeWorks Brewing received the honor of Best Craft Beer of 2012 with their beer Citra Ninja Imperial IPA.
Here's a word from Pipework's Co-Founder Gerrit Lewis —
We're ecstatic to accept this award for the Best Craft Beer of 2012! It's an honor to be held in such high regard among so many other great craft brewers. We had an amazing year and we're pumped about what 2013 will bring. Needless to say we'll keep doing what we do, brewing some unique and assertive beers for all the distinguished quaffers out there. Now prepare yourself for the next ninja strike, it may come when you least expect it…..Cheers! – P-Dubs
In the spirit of "rallying the troops" the close race ended with Pipeworks and Saranac Brewing duking it out on the last day of voting.  We at The Full Pint did our best to keep things fair, so we kept a close eye up to the end.  Ultimately, we feel the top ten beers listed in the poll were stars of 2012, and are very happy that our loyal readers and the loyal fans of the participating breweries were as passionate as us about the beers they adored last year. As corny as it sounds, the real winners of the poll are you, the beer drinkers. With Citra Ninja, Saranac White IPA, Stone Enjoy By IPA , Firestone Wooky Jack and Lagunitas Daytime doing so well, it has also put a bright light on what's (still) hot right now, hoppy beer!
Follow PipeWorks on Twitter
Follow PipeWorks on Facebook
A big thank you to all involved, here are the results of the poll. Cheers!
[poll id="29″]