Oskar Blues Expands Distribution to North Dakota, South Dakota & Oklahoma
(Longmont, CO & Brevard, NC) — Oskar Blues Brewery is pleased to announce that it is now just one state away from completing its national footprint with the addition of North Dakota, South Dakota and Oklahoma. These three new markets will bring the total US distribution to 49 states + DC and one step closer to being in a small collection of American craft breweries selling beer in all 50 states.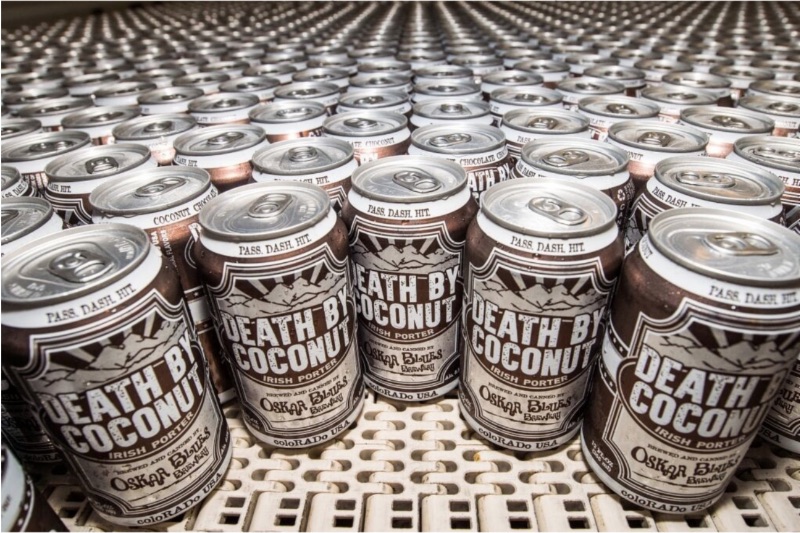 Oskar Blues has signed distribution agreements and will partner with Johnson Brothers for the North and South Dakota markets. There will be full coverage in both states with Johnson Brothers of South Dakota and Johnson Brothers of North Dakota dba Ed Phillips & Sons Co. of North Dakota. In addition, Oskar Blues will partner with another Johnson Brothers company in NW Iowa with their blue network wholesaler, Johnson Brothers Beverages of Iowa, Inc., which will open up the market in the Lake Okoboji area where cans will be a big hit for boaters and outdoor enthusiasts.
Oskar Blues will begin shipping cans and draft to the Dakotas at the end of this month and will hold its official launch in both states during the first week of March. The brewery will lead with Dale's Pale Ale in both 12 oz. and 19.2 oz. can packages as well as draft in all markets across the state. Additional can offerings of the brewery's core brands, Pinner Throwback IPA, Mama's Little Yella Pils, Oskar Blues IPA, Old Chub Scotch Ale as well as the Canundrum Variety 12-pack, will be immediately available. Specific details for the launch week and retail events will be released before the end of this month and Oskar Blues will have a team of OB sales peeps in both markets to execute the launch strategy and kick things off right.
Oskar Blues has also signed a distribution agreement and formed a partnership with Oklahoma Beer Imports, a Non-Resident Seller, operating in state-wide in Oklahoma. Since the state operates as a 4-Tier state, OBI will sell to all Class B wholesalers and will represent the Oskar Blues brands throughout the entire state.
Oskar Blues plans to launch the brands in the Sooner State during the first week of April, pending final approvals from the state of Oklahoma, and will launch the full line of cans and draft offering led by Dale's Pale Ale. In addition, Beerito, a new 4% ABV offering will be available immediately and will be sold throughout the state in cans. As with the Dakotas launch, final details of the official launch week and events in the Oklahoma City and Tulsa markets will be released by late March. As with the Dakotas, Oskar Blues will have a team in the market during the launch week.
Oskar Blues is also on target to launch Montana soon after these three new states and will achieve its goal of being distributed in all 50 states by mid-year. Additionally, the brewery is in the process of evaluating a number of new international markets and will be announcing additional export partnerships in the coming months that will expand Oskar Blues' presence throughout the globe lead by the flagship brand, Dale's Pale Ale.
About Oskar Blues Brewery
Founded by Dale Katechis in 1997 in Lyons, Colorado, Oskar Blues Brewery launched the craft beer-in-a-can apocalypse with hand-canned, flagship brew Dale's Pale Ale. Today, Oskar Blues is one of the fastest growing breweries in the country and operates breweries in Longmont, Colorado and Brevard, North Carolina, while producing 192,000 barrels in 2015. The original canned craft brewery continues push innovation with the announcement of an Austin, TX brewery in April of 2016 and creations like The Crowler while it distributes to 46 U.S. states, Washington, D.C., as well as parts of Canada, Sweden, and the U.K.
In 2013, Oskar Blues founded the CAN'd Aid Foundation, a 501(c)(3) nonprofit public charity that offers grassroots grants to those making a difference in the areas of community, the environment, music, and more. In 2015 alone, CAN'd Aid partnered with 52 organizations and provided nearly $400,000 in charitable contributions, bringing its doin' good efforts to $1.3 Million since its inception. To keep up with all things Oskar Blues, visit http://www.oskarblues.com.