Oskar Blues Adds Former Coors Brewer Jeff Nickel, 5 New Tanks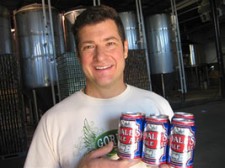 Veteran brewer to manage Oskar Blues beer production, New tanks boost capacity by over 50%
Oskar Blues Brewery has carried out two significant measures to help meet the growing demand for its gourmet canned beers. Oskar Blues has hired Jeff Nickel, a well-known and respected brewer who has been a leading brewer for Coors Brewing/MolsonCoors for the past 8 years.
Nickel will serve as the head of beer production for Oskar Blues, he'll work in tandem with head brewer Dave Chichura. Nickel will focus on improving the brewery's brewing procedures, maintaining quality control and streamlining production schedules and efficiency.
At Molson Coors, Nickel was part of 5-person team responsible for creating and developing all new beers for the company, and improving quality and consistency for existing beers. He brewed beer on the company's 30-barrel pilot brewing system. Nickel helped with the creation of Blue Moon beers Honeymoon, Spring Ale and Full Moon. His most recent project for Molson Coors was serving as part of the brewing team for the AC Golden Brewing subdivision of Molson Coors, which just released a new version of Herman Joseph Private Reserve beer in Colorado.
While working for Coors, Nickel won 5 Great American Beer Festival medals and 1 World Beer Cup medal. "I had what many considered the best job there was at Molson Coors," Nickel says, "and the job was great for me. But I wanted more creativity in my work and to have a greater impact." "Oskar Blues has such a huge potential for growth, and I can be a big part of this growth and play an important role in the brewery's success. Plus, I can now wear shorts to work and I get to brew hoppy pale ales again." Prior to his Coors position, Nickel spent five years with C.B & Potts Brewing Company, where he was responsible for installation, operation and supervision of six brewpubs. He won 6 Great American Beer Festival and World Beer Cup medals as a brewer for C. B & Potts.
Oskar Blues head brewer Dave Chichura welcomes Nickel's skills and experience. "When Jeff sent in his resume, I thought about hiding it from Dale," Chichura says with a laugh. "But we're growing fast," Chichura adds, "and an experienced guy like Jeff makes it so much easier for us to get to where we want to be. He's helping us smooth out the hitches in our growth curve, and he's helping us become a much more efficient brewery."
The brewery has also added five 100-barrel fermenters at its Longmont brewing & canning facility. The tanks bring the total number of 100-barrel tanks there to 14. With these new tanks, Oskar Blues expects its 2008 beer production to increase by about 75% over last year. The brewery is on pace to produce approximately 20,000 barrels of beer this year. In 2007 Oskar Blues produced 12,409 barrels of beer. Oskar Blues grew by 51% in 2007, and opened its new 35,000 square-feet brewery/cannery in Longmont last April.
Oskar Blues' Lyons brewery continues to produce beers for the famed brewpub/music venue, and has enabled Oskar Blues to expand the house beer lineup there. Oskar Blues began canning its beers (one can at a time on a table-top machine) in November of 2002. The move made Oskar Blues the first craft brewer to brew and can its own beer. Prior to filling its first can, the brewpub produced 700 barrels of beer. About two dozen US microbreweries now brew and can their own beer in the US. The company's beers are now available in 22 states.