Oregon Garden Brewfest Raises a Glass to Record Attendance at its 9th Annual Event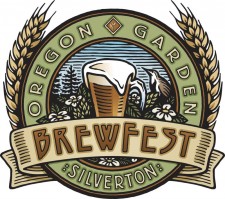 (SILVERTON, Ore.) – The 9th annual Oregon Garden Brewfest smashed attendance records this past Friday through Sunday, with more than 8,500 people rolling through the gates, a nearly 42 percent increase over last year's record of 6,000. This marked the first year the event took place over three days, adding Sunday as a family day. Attendees came from all over the northwest to sample from more than 125 handcrafted beers, ciders and mead from 62 different breweries.
"We feel that adding an extra day really boosted attendance, particularly for families who wanted to enjoy a craft beer while strolling through the beautiful gardens," stated event coordinator Mary Ridderbusch. "Our beer selection, amazing music lineup and gorgeous weather made this year's festival worthy of the visit."
The People's Choice, as determined by votes cast at the festival, was Pirate Stout from Santiam Brewing, Salem's newest brewery, which celebrated its first time at this event. Another crowd favorite was Cascade Brewing's Oblique Black and White Stout. Both cider and mead were popular choices as well.
The event kicked off Thursday night with the second annual Brewer's Tasting Dinner, a six-course tasting featured small plates paired with beers from six Northwest breweries. Brewing industry members mingled with craft beer aficionados at the intimate event, which featured a short introduction by each of the brewers about that particular beer prior to it being served.
Another popular activity was a presentation given both days by Women Enjoying Beer, a research based education and marketing company that develops and serves female (and male) beer consumers. Founder Ginger Johnson helped the enthusiastic crowds learn how to better enjoy their beer at the festival by talking about beer's color, aroma and flavor.
The Oregon Garden Brewfest took place under twinkly white lights in the Frank J. Schmidt Pavilion on the grounds of the Oregon Garden, with spillover in an outdoor tent. Attendees were welcome to stroll through the lush landscaping of the Oregon Garden in-between drinks. Crowds squeezed together to enjoy the music of a number of local bands, including Weinland, Sassparilla and McDougall.
Many attendees played it smart and booked rooms at The Oregon Garden Resort, right up the hill from the festival. The Oregon Garden Resort, a Moonstone Hotel property, offers 103 rooms overlooking The Oregon Garden and offered special brewfest package deals.
"Oregon is known for its craft beers and ciders, but most of the big festivals celebrating them are in Portland, Eugene and Bend," said Ridderbusch. "It's great to offer a festival in the central Willamette Valley for our neighbors, and at the same time introduce beer lovers from out of the area to the beauty of The Oregon Garden."
The Oregon Garden Brewfest always takes place the last weekend in April. The 10th annual event will take place April 25, 26 & 27, 2014. To stay informed, visit www.oregongarden.org/events/brewfest/