One More Chance to Get The Bruery Black Tuesday for 2010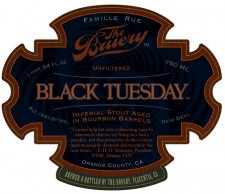 On the heels on the Black Tuesday Release party, The Bruery announces details on how you can get one more chance to purchase a bottle of this massive Imperial Stout.
For those who were unable to get tickets to the Black Tuesday release celebration, you have one more chance at picking up a bottle this year.
At 9am PST on Wednesday, October 27th, 2010, we will be putting the remaining bottles of Black Tuesday on sale on our website: store.thebruery.com
In an effort to spread the wealth, there will be a limit of ONE (1) bottle per person.
Bottles will NOT be shipped, they must be picked up from The Bruery Provisions on November 5th or later.
If you are not going to be able to pick up the beer yourself, you must put the name of whomever is picking up your beers in the SHIPPING ADDRESS box.
Some words of advice:
We are anticipating a high volume of traffic on our website for this, so to reduce the number of steps you must take to purchase the tickets, we recommend that you REGISTER on our eCommerce site, store.thebruery.com, BEFORE tickets go on sale. By doing so you're creating an account that can be used at the time of purchase and will save you time and make it easier to process your transaction. PLEASE NOTE, UNTIL YOUR CHECKOUT IS COMPLETE, ITEMS IN YOUR SHOPPING CART ARE NOT GUARANTEED.
Also, be sure that the billing address you enter for your purchase matches the credit card with which you're paying, and the shipping address corresponds with the person picking up the beer from The Bruery Provisions in Orange. IF THE SHIPPING NAME DOES NOT CORRESPOND TO THIS PERSON, THEY WILL BE UNABLE TO PICK UP THE BEER. If you're buying and picking up, your name will go in both spaces. If you're buying and someone else is picking up your beer, your name will go under BILLING, corresponding with the credit card billing address and the person picking up your beer will go under SHIPPING.
Cheers,
The Bruery