Ommegang Nirvana IPA To Hit Tri-State Area Distribution Mid April
(Cooperstown, NY) — Tri-State hop-heads are about to discover an entirely new state of being. This April, Brewery Ommegang will launch Nirvana IPA, its first-ever American-style India Pale Ale, across New York, New Jersey and Connecticut. Long-known for its highly imaginative Belgian-style beers, Ommegang continues its recent endeavors into hoppy beers with Nirvana IPA, laddering up for the first time to the most beloved style of beer in the craft beer universe today. Doubling-down on the excitement, the beer will depart from Ommegang tradition and be available as a six–pack, rather than four-pack.  Recommended shelf price will be a very accessible $9.99.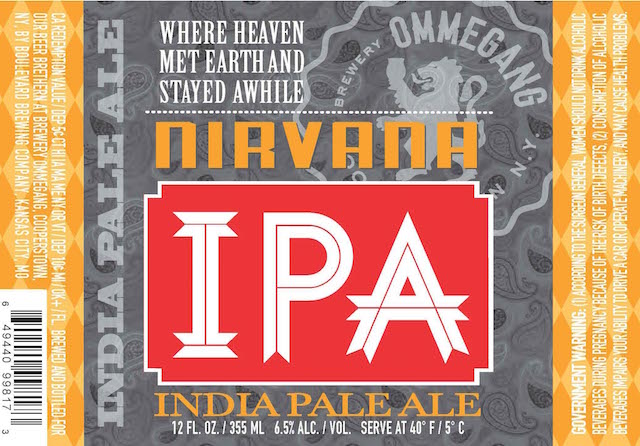 Nirvana IPA is hopped with Bravo, Simcoe, Centennial, Topaz, and Mosaic, dry-hopped with Centennial, Citra, Simcoe and Amarillo and clocks in at 6.5% ABV and 60 IBUs. The flavor is hoppy, juicy and citrusy goodness – without harsh bitterness.
"Over the past two years, our brew team's explorations with hops yielded some very lovely beers, including Hop House and Fleur de Houblon, our summer seasonal," said Phil Leinhart, Ommegang Brewmaster. "Nirvana IPA is the most adventurous hoppy beer to date for us and it really strikes at the sweet-spot of what more and more craft beer drinkers seem to be craving – a mid-level ABV beer with strong hop character that fits a variety of occasions."
Ommegang Innovation Manager Mike McManus believes the aroma of Nirvana IPA will be highly captivating and the initial seductive element of the new beer.
"The grapefruit, peach, pineapple and apricot aromas are mouth-watering," says McManus. "The taste is a big citrus smack, rounded and juicy with tropical and floral notes and just a touch of honey malt sweetness."
Nirvana IPA is also the first Ommegang beer that will be produced at sister-brewery Boulevard in Kansas City, MO. McManus developed the beer in Cooperstown before collaborating on its production with the Boulevard brewing team. Boulevard's dry-hopping capabilities and rich, hop-forward beer experience together with its automated ability to produce six-packs (which Ommegang currently cannot) made it a good fit for this particular new beer venture.
For 2015 and the foreseeable future, Nirvana IPA will be confined to the Tri-State area, where Ommegang enjoys a higher level of consumer awareness and recognition, as well as a higher degree of retail availability. The official launch window is mid-April, with half-barrels, sixtels and six-packs being the exclusive SKUs.
Brewery Ommegang opened in 1997 to craft-brew fine Belgian-style ales. Ommegang brews seven ales year-round, as well as an extensive and imaginative range of seasonal and specialty ales. The beers have won a national following by connoisseurs of fine beer and are distributed in 43 states and internationally. Ommegang is located on a 136-acre farmstead in Cooperstown, New York and offers free daily tours and inexpensive tastings as well as a 100-seat café, a well-stocked brewery store, and an annual calendar of public events. Ommegang is open every day of the year except for Thanksgiving, Christmas Day, and New Year's Day. For more information, contact [email protected], call 1-800-544-1809, or visit www.ommegang.com. Ommegang is a member of the Duvel family of fine beers. Follow Ommegang on Twitter: @BreweryOmmegang, Facebook.com/Ommegang, and Instagram: @BreweryOmmegang
# # #