Off Color Brewing & Jester King Collaborate on Radiolaria
(Austin,TX) – We're excited to introduce Radiolaria, our collaboration with Off Color Brewing in Chicago, Illinois! Radiolaria, as the label states, is a "conflagration of wild yeasts". We brought our mixed culture of native yeast and bacteria harvested from the Texas Hill Country to Off Color, and combined it with their house culture of microbes. We then brewed a simple, low gravity wort loosely based off of Off Color Apex Predator, and allowed plenty of time for the blend of yeasts and bacteria to create interesting flavors and aromas in the beer through the wondrous process of fermentation.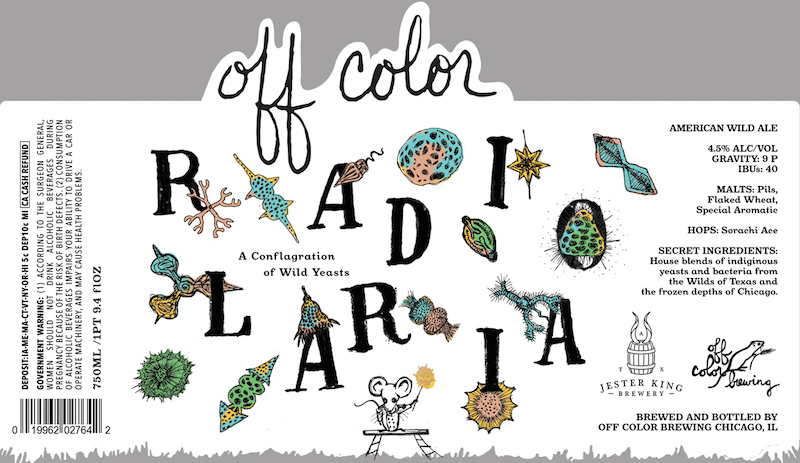 Brewing with John Laffler at Off Color was a real honor for us. John has deep roots in the brewing world and has played a key role in the development of barrel-aged beers and wild fermentation on the whole. He's also been very helpful to Jester King over the years. In November of 2011, John helped us salvage our longest brew day ever when a stuck mash left us struggling until 4am in the morning to finish the brew. John, in our opinion, is making some of the most intricate, enjoyable, drinkable, balanced, and complex beers in the world right now, and it was a real pleasure for us to make a beer with him.
Radiolaria was brewed at Off Color Brewing with barley, wheat, Sorachi Ace hops, and fermented in stainless steel with the aforementioned blend of native microbes from Jester King and Off Color. It is 4.5% alcohol by volume and 40 IBU. The name Radiolaria comes from the intricate mineral skeletons found in the ocean, which figuratively represent the living world of microorganisms responsible for the flavor profile of the beer. The label art was done by Nikki Jarecki.
Radiolaria can be found in Chicago, and other places where Off Color beer is sold. We'd love to have some available in Texas, but unfortunately our state laws make it very difficult for small, out-of-state breweries like Off Color to sell their beer in Texas. Hopefully, that will change in the future, so that Texas beer drinkers can have greater access to great beer from abroad.