Odonata Brewing is No More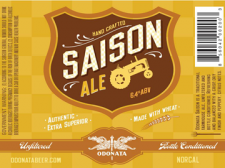 In the slipped under the radar department, last week Peter Hoey has announced that he has decided to disband Odonata Brewing in Sacramento, CA.
We caught up with Peter to get all the details of the end of Odonata as well as his future plans.We also go insight from fellow brewer Glynn Phillips of Rubicon.
Odonata was a cool brewery that released two killer beers on the market a little over a year ago. They just started popping up on the shelves in SoCal, and it bums me out this will quickly come to an end. It's American Craft Beer Week, please raise a toast to Odonata Brewing!
When was the tough decision made to cease operations? "After we did our taxes, we realized this wasn't making money and if we should brew another batch of beer. The margins just weren't there."
Was it difficult to do business in Sacramento? "We had great local support, even the big national chains saw our potential, it was just the volumes weren't there to support the business structure."
Why you didn't go the route of say The Bruery or Allagash, and charge a premium for your fancy ales? " My goal was and is to bring a premium product to the market at an affordable price. It's more expensive to contract brew. It's difficult to do that(make a premium product) without your own space to produce beers. We had restraints like not bringing in a bottling line, or having fancy bottles. I'm not opposed to the higher price point, but I want to keep beer as an affordable luxary. A $15 dollar of beer seems reasonable to me, but might not be to a new beer drinker.  On the consumer side of things, I appreciate that."
So we hear you are teaming up with Sutter Butte Brewing, is this your new home? "I am not a partner in Sutter Butte, I am a consultant, and am consulting for two other breweries that haven't launched yet." Stay tuned for details.
Do you plan to give it another go having your own brewery? "I've got plans and dreams to do my own thing, and take some of the lessons from Odonata and put them into a new venture. Most brewers dream of this."
Any words of advice for someone thinking of going the contract brewery route? "It's a tough road, it looks like a cheaper startup, but it's not. You start crunching numbers and you think you can build the brand without all the overhead. I always feel beer should be tied to a place, and with Odonata, it wasn't the case. We were asked all the time "where's your brewery." We want to give locals a sense of ownership. I've learned that it doesn't take much more money to build your own brewery compared to contract model."
Will we ever see Saison and Rories again? "I still have all those recipes, that's definitely the possibility. I just need to be in the right situation again. That Saison recipe went from Bison to Sac Brew to Odonata, born in 2006 and won GABF gold that year.
We reached out to Sacramento Compadre Glynn Phillips of Rubicon Brewing, for a few followup questions.
What is your perspective on this? "First, I think that it is extremely difficult to run a Production only brewery. The state of the Distributor business is that they all pay at 30 days net and it is very hard to establish a steady cash flow when you are dependent on you wholesalers to do their job and more importantly pay on time. For a business like the Rubicon we have the retail/ restaurant side and it nets a steady cash flow which helps with lots of things.
Secondly ,the economy has not helped the purveyors of high end products. People are still very interested in more costly goods but not as often. Odonata put out a small batch hand crafted product that was costly. Given the state of peoples pocket book the Odonata plan priced people right out of the sale. At the Rubicon we try to sell our beer at a very competitive price and I think that helps with sales.
Thirdly, I sold a fair amount of Odonata beer at the Rubicon and we will miss it here. I am enjoying and looking forward to Peter's future projects."
How does this effect Rubicon? "The Rubicon battles every day to keep new business coming in. We are also committed to quality products at a decent price. This has helped us keep afloat. We have also tried to change with the times. As I say to many folks the only constant in life is change."