Odell Brewing Wolf Picker, Part of Latest Montage Variety Pack
(Fort Collins, CO) – This January, Odell Brewing will celebrate the return of their Winter-Spring Montage Variety Pack series. Each Montage Variety Pack includes two year round offerings, the current seasonal release, as well as a special Roots Release beer inspired by the brewery's five barrel pilot system.​ The Winter-Spring Montage features 90 Shilling, IPA, Runoff Red IPA, and Wolf Picker.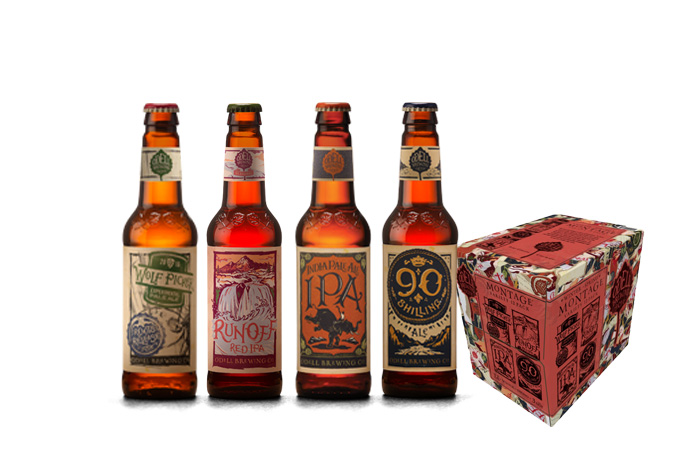 Wolf Picker is named in honor of our hop growing community and the harvesting rig they use. Each year, the brew is crafted with the same malt base but with new and unique varieties of hops. Some of the varieties are so new, they have not been named yet. Wolf Picker 2016 features the experimental HBC 438 and Cashmere hops. These two offer a complex and layered hop character that combine hints of coconut, papaya and mango with a mild herbal quality.
The Winter-Spring Montage will be available within the brewery's eleven state distribution footprint through April.
About Odell Brewing – Odell Brewing is a family and employee owned regional craft brewery. Since 1989, the culture of family and collaboration has thrived, fostering a brewery full of beer-centric people. It is this passion for beer that inspires Odell Brewing to create quality, hand-crafted and innovative brews. Odell Brewing is committed to serving the communities in which it distributes by minimizing its environmental impact and through its community outreach and charitable giving programs. Odell Brewing was named the "Best Company to Work For" in Colorado in 2015 and is an award winning brewery: 2014 World Beer Cup® – gold for Runoff, 2013 Great American Beer Festival® – gold medal for 5 Barrel Pale Ale, 2012 Brewers Association Recognition Award, 2011 Great American Beer Festival® – gold medal for Friek, 2008 World Beer Cup® – gold for IPA. 2007 Great American Beer Festival® – gold medal for IPA.