Odell Brewing To Release Woodcut No. 5 At SAVOR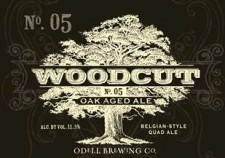 Savoring Woodcut No. 5 – Odell Brewing to release newest Woodcut offering at SAVOR
Fort Collins, CO. – On June 3, 2011, Odell Brewing will debut Woodcut No. 5, an oak aged Belgian Quadruple, at SAVOR: An American Craft Beer and Food Experience in Washington D.C. Woodcut No 5 will be the second offering Odell Brewing has released at the event, which is now in its fourth year.
"Every Woodcut offering is uniquely aged in the luxury of brand new toasted oak," said Brent Cordle, who manages the barrel aging program at Odell Brewing. "The toasted oak and vanilla, along with the Belgian banana and clove flavors, will pair well at the esteemed SAVOR event, an event only fit for a beer like Woodcut No. 5."
A Quadruple Ale brewed with a blend of Belgian ale yeast and our house ale yeast, Woodcut No. 5 presents a rich, spicy dried fruit essence and a deep auburn color. Vanilla from the New American Oak complements the Special B malt with hints of cherry, raisin and plum on the palate. SAVOR chefs will pair the beer with "Biscuit n' Belly," a braised pork belly on a buttermilk biscuit with mustard greens. According to the chefs, "the bitter mustard greens tame the big quad with the smokey middle transforming the pork belly into a more bacon like state."
Odell Brewing will also mark the release of Woodcut No. 5 with a celebration in the brewery's Tap Room from 4-6 p.m. on June 4, 2011. To commemorate the release, limited edition, signed and numbered woodcut prints by local artist Chris Bates will be available for purchase.
Founded in 1989, Odell Brewing was started by Doug Odell, his wife Wynne, and his sister Corkie. Twenty-one years later, the culture of family and collaboration still thrives fostering a brewery full of beer-centric people. It is this passion for beer that inspires Odell Brewing to create quality, hand-crafted, innovative brews. In 2010 the brewery completed its fourth expansion, adding a wood-aging cellar, a 750 ml bottling line, and a 76 kilowatt photovoltaic system capable of providing 25% of the brewery's peak energy demand. As a regional craft brewery, Odell Brewing is committed to serving the communities in which it distributes by sourcing local raw materials, and through its charitable giving program known as Odell Outreach. Odell Brewing was recently named a "Top Company of 2010" by ColoradoBiz Magazine and is an award winning brewery, nationally and internationally: 2010 North American Beer Awards – gold medal for Woodcut No. 3. 2009 BrewNZ Awards – gold for 5 Barrel Pale Ale. 2008 World Beer Cup® – gold for IPA. 2007 Great American Beer Festival® – gold medal for IPA.