Odell Brewing Launches Oktoberfest This Month
Fort Collins, CO. – This August, Odell Brewing will celebrate the coming fall season with a new six pack. Oktoberfest, a Märzen-Style Lager, will hit be available in early August through September. The new seasonal six pack follows the brewery's summer offering, St. Lupulin.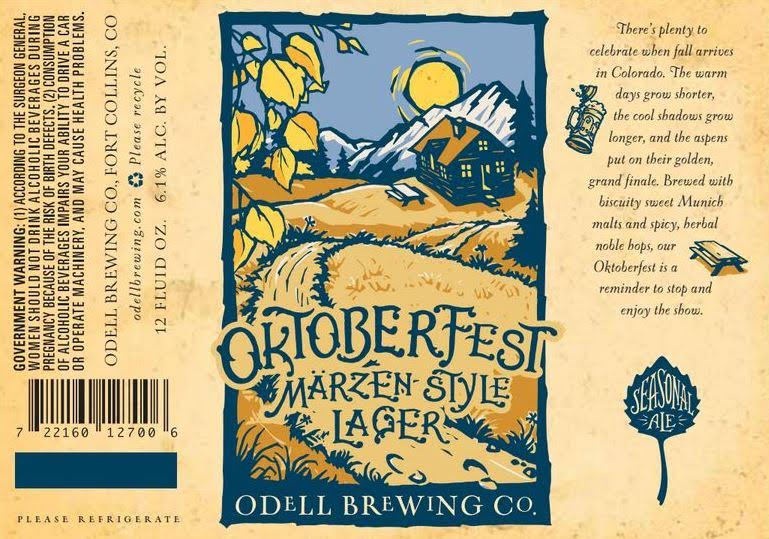 Brewed with Munich and Vienna malts and herbal noble hops, Oktoberfest was lagered for over eight weeks. The brew boasts a golden copper color and white head. Hints of biscuit and graham cracker blend with a subtle hop spiciness and just a touch of yeast esters in the aroma. The full and flavorful malt backbone is balanced by a crisp finish.
According to the brewery's "Quality Guy", Eli Kolodny, the beer pairs well with "BIG Pretzels, Schnitzel, and of course, anything that ends in 'wurst'."
Oktoberfest will be available in six packs and on draft throughout the brewery's eleven state distribution footprint. Odell Brewing will kick-off the fall season with an Oktoberfest celebration in the brewery's backyard on August 29 with a pig roast and live music.
About Odell Brewing – Founded in 1989, Odell Brewing was started by Doug Odell, his wife Wynne, and his sister Corkie. Today, the culture of family and collaboration still thrives fostering a brewery full of beer-centric people. It is this passion for beer that inspires Odell Brewing to create quality, hand-crafted, innovative brews. As a regional craft brewery, Odell Brewing is committed to serving the communities in which it distributes by minimizing its environmental impact, sourcing local raw materials, and through its charitable giving program known as Odell Outreach. Odell Brewing is employee owned and was named a "Best Company to Work For" in 2013 by ColoradoBiz Magazine and is an award winning brewery, nationally and internationally: 2014 World Beer Cup® – gold for Runoff, 2013 Great American Beer Festival® – gold medal for 5 Barrel Pale Ale, 2012 Brewers Association Recognition Award, 2011 Great American Beer Festival® – gold medal for Friek, 2008 World Beer Cup® – gold for IPA. 2007 Great American Beer Festival® – gold medal for IPA.