Odell Brewing – Colorado Snow Brings Runoff Red IPA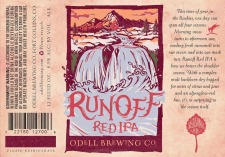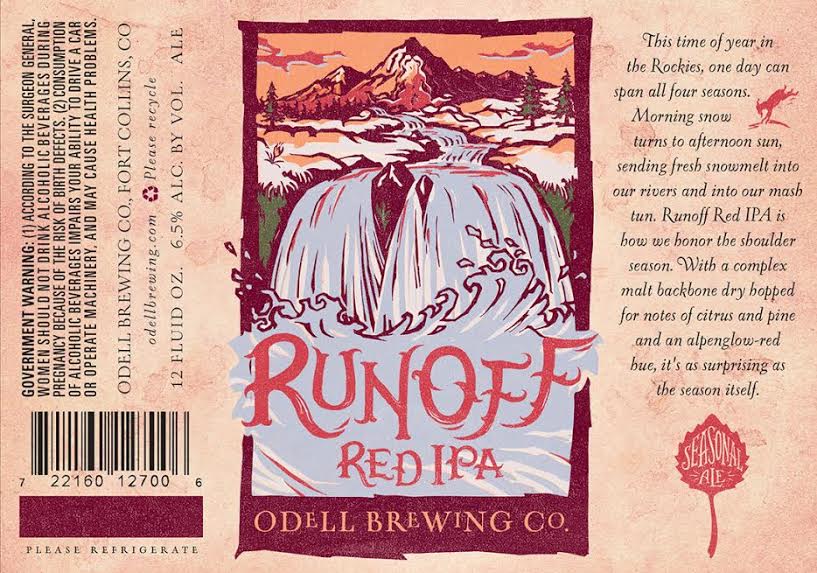 Fort Collins, CO – Odell Brewing will celebrate the release of Runoff Red IPA. Formerly known simply as "Red Ale," Runoff is the same recipe with a new name and label and follows Isolation Ale as part of the brewery's seasonal series of beers.
"We wanted to give this beer a name, story and label imagery that would reflect the spirit of the season and better coincide with our other seasonal offerings," said Marketing and Branding Manager, Amanda Johnson-King. "We also felt that Red IPA more accurately described the character of the beer, which is a very hoppy crimson colored ale."
The name "Runoff" is a nod to the late winter and early springtime snows in Colorado, that generate the precious water so vital to the area and to beer making. The label art also depicts the shoulder season along with a vibrant red alpenglow that mirrors the color of the beer.
Brewed with a complex malt bill, Runoff boasts a hearty backbone and a ruby hue. The brew is dry-hopped with a generous amount of American hops giving the beer a fruity citrus aroma and a kick of grapefruit and pine hop character.
Odell Brewing will celebrate the release of Runoff in the brewery's Tap Room on January 4th and 5th. Guests can enjoy samples of the beer, special food truck fare, as well as live music by the Waido Experience on Sunday from 3:30 – 5:30 pm. Runoff Red IPA will be available in six packs and in the Winter-Spring Montage variety pack throughout the brewery's ten state distributor footprint.
About Odell Brewing:
Founded in 1989, Odell Brewing was started by Doug Odell, his wife Wynne, and his sister Corkie. Twenty-four years later, the culture of family and collaboration still thrives fostering a brewery full of beer-centric people. It is this passion for beer that inspires Odell Brewing to create quality, hand-crafted, innovative brews. As a regional craft brewery, Odell Brewing is committed to serving the communities in which it distributes by minimizing its environmental impact, sourcing local raw materials, and through its charitable giving program known as Odell Outreach. Odell Brewing was named a "Best Company to Work For" in 2013 by ColoradoBiz Magazine and is an award winning brewery, nationally and internationally: 2013 Great American Beer Festival® – gold medal for 5 Barrel Pale Ale,       2012 Brewers Association Recognition Award, 2011 Great American Beer Festival® – gold medal for Friek, 2008 World Beer Cup® – gold for IPA. 2007 Great American Beer Festival® – gold medal for IPA.