Odell Brewing and The Real Dill Collaborate to Create Myrcenary Pickles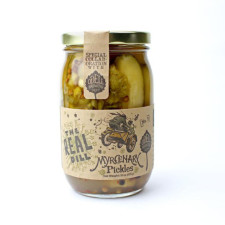 (Fort Collins, CO) – On July 10, 2015, Odell Brewing and The Real Dill will celebrate the release of their co-creation, Myrcenary Pickles. This is the 2nd release of The Real Dill's Briners & Brewers Series, a celebration of craft food and drink that marries the art of brewing beer and making pickles based off of specific beers.
Inspired by Odell Brewing's Myrcenary Double IPA, these pickles are made with a hopped wort brine. The wort, which is essentially the backbone of the beer, gives the brine its malt and hop character. It is then combined with a variety of ingredients designed to bring out the same flavors and aromas that Myrcenary Double IPA evokes and dry hopped for up to two weeks.
The Real Dill co-founders, Tyler DuBois and Justin Park say "The real trick is finding a balance in flavor that highlights the beer and its complexities, while still tasting like a pickle you'd want to eat a bunch of. What I love about the Myrcenary Pickles is that they really capture the flavors and aromas that make Myrcenary Double IPA such a fantastic beer. It is like the beer was converted into pickle form."
The Real Dill's Myrcenary Pickles feature cucumbers, water, malted barley, hops, vinegar, green onion, salt, grapefruit juice, spices, grapefruit zest. The result is a savory fresh pickle that blends a crisp tartness with a bright citrus and hop character reminiscent of the beer.
"This unique project was a collaboration from beginning to end and everyone involved had a blast during the process," said Odell Brewing Tap Room manager, Kailey Schumacher. "I think that one of the greatest parts about this partnership was seeing the passion that both companies have for their craft, and being able to step into the other company's shoes for the day was inspiring. We cannot wait to share these with our fans."

The Real Dill and Odell Brewing will celebrate the release of Myrcenary Pickles in the brewery's Tap Room on Friday, July 10. Guests can enjoy samples of the pickles paired with its inspiration brew. Myrcenary Pickles will be available for purchase for a limited time at the brewery and in select retailers throughout Northern Colorado.
About Odell Brewing – Founded in 1989, Odell Brewing was started by Doug Odell, his wife Wynne, and his sister Corkie. Today, the culture of family and collaboration still thrives fostering a brewery full of beer-centric people. It is this passion for beer that inspires Odell Brewing to create quality, hand-crafted, innovative brews. As a regional craft brewery, Odell Brewing is committed to serving the communities in which it distributes by minimizing its environmental impact, sourcing local raw materials, and through its charitable giving program known as Odell Outreach.
www.odellbrewing.com – @OdellBrewing – facebook
About The Real Dill – Justin Park & Tyler DuBois had each been making pickles on their own, just for fun. Good friends, they would share their goods with each other, comparing notes. After exchanging recipes for a while they finally made a batch together with fresh ingredients from Tyler's garden. The batch led to a "pickle epiphany." The pickles – the first ever version of their Jalapeño Honey Dills – were so unique, crunchy, flavorful, and just plain gorgeous looking that they decided that they needed to do something with their creation. They spent the better part of the next two years developing new recipes, drawing inspiration from unique ingredients that they loved to cook with but had not necessarily been typically associated with pickles. After making a batch for all the guests at Justin's wedding and giving them away as favors, they kept getting calls, emails and letters asking for more of those "Park Wedding Pickles." So, after talking a lot about pickles for two years they finally took the leap and launched the brand at Denver farmers markets in the summer of 2012. To this day, they still follow the same recipes they created in their home kitchen, using all natural ingredients and home canning techniques.