O'Brien's Pub – Strong Ale Fest and Happy Thanksgiving!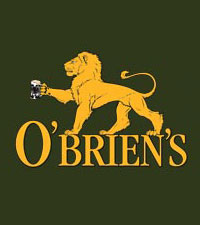 Hello Holiday Beer Fans!
San Diego, Ca – The best beer and food holiday of the year is almost upon us.  Make sure you incorporate beer into your meal this Thanksgiving.  Cooking with beer is easy and adds great flavor – you can baste your bird in beer and make beer gravy (dark beers without too much roast flavor work great or for the more adventurous cook, try something like Rodenbach Grand Cru), boil some brats in beer, use your favorite beer in a marinade, substitute cooking with a Belgian-style Tripel anywhere you might add white wine or use a full flavored Belgian-style dark strong ale in place of red wine in a soup or sauce.
Few beverages pair better with Thanksgiving meals than Belgian-style Dubbels and Grand Crus.  Malty, not too strong, not too sweet and with just the right level of fruitiness to pair with everything on the table.  Maresous 8 Bruin, Chimay Red or Blue, Lost Abbey Lost and Found, AleSmith Grand Cru, Green Flash Grand Cru, Westmalle Dubbel and even Malheur 12.  For a twist, try Malheur Brut or Dark Brut or Bosteels Deus in place of champagne.  You will certainly find many of these beverages around my meals this weekend.
But before we get to Thanksgiving, a few pub updates to tell you about.  This week we will tap a five gallon cask of Alpine O'Brien's IPA on Wednesday, November 25th at 5 pm.  We will have UEFA Champions League games live at 11:30 am on both Tuesday and Wednesday, the 24th and 25th.
Closed for Turkey Day
The pub will be CLOSED Thursday the 26th and Friday the 27th for Thanksgiving.  We will be open normal hours on Saturday the 28th – Noon to Midnight and Sunday the 29th – Noon to 6 pm.  Although whether or not we can show the Chargers game due to blackout restrictions remains to be seen.  As of yesterday, I read that 6000 tickets still remain, which is a lot of tickets to sell in 48 hours, or even 72 hours if they get an extension.  If you want to see the game, go buy a ticket.  I have a bad feeling that the blackout may well be in place.
Next week we host our annual pre-party for the Strong Ale Festival.  On Thursday the 3rd we will tap two casks – AleSmith YuleSmith and Pizza Port Carlsbad Poor Man's IPA.  We will also have Sierra Nevada's The Empire Strikes Black on tap along with a host of other great strong ales.  We will be tapping great strong beers all weekend long to celebrate the festival.
Strong Ale
The 13th San Diego Strong Ale Festival will be Friday and Saturday, December 4th and 5th at Pizza Port Carlsbad.  The festival will run from 4-11 pm on Friday and 11 am to 11 pm on Saturday with more than 65 beers all over 8% on tap.  Admission is $30 and includes a festival glass and 8 taster tickets, additional tastes are just $1 each.  All tickets for the regular festival hours are available at the door.  We will have full size kegs of everything at the fest, so the beer line up will be the same both days.  Tickets for the VIP session from 1 to 4 pm on Friday the 4th are more than half sold out.  You can buy them for $40 at www.pizzaport.com.  We will have at least a dozen special beers for the VIP session.
Please Help San Diego!
San Diego is bidding to become a host city for the World Cup in 2018 or 2022.  The city needs your help – please sign the online petition to show your support.  Just visit the city's website at www.sandiego.gov and click on the World Cup link.  There are 27 cities vying for only 18 final spots.  Right now San Diego is in 15th place, but with just 1000 more votes, the city could jump up to 11th place – the petition drive ends November 30th.  If you have friends, relatives, colleagues, fellow alumni, etc… that you could forward the following paragraph, I would greatly appreciate it.  I especially need help circulating the effort around the local colleges – if you have any contacts that can help, please send it to them.  The World Cup could mean a $400-$500 million economic windfall for the county.
Please help support the bid by forwarding this message:
The San Diego World Cup Bid Committee needs your help to gather signatures for an online petition.  The city is trying to become a host city for either the 2018 or 2022 World Cup soccer tournament – the USA is bidding for both tournaments at the same time.  We need to show our city's support to be a host city by signing the petition.  San Diego is one of 27 cities vying for only 18 final spots that will be decided by the end of the year – the petition signing ends on November 30th.  Could you please visit the city's website at: www.sandiego.gov and click on the World Cup link to sign the petition?  All that is needed is an email address and a zip code.  If you have multiple email addresses, please enter all of them.  If you have friends, relatives, fellow alumni and colleagues that you can forward this to, it would be greatly appreciated.  Thanks much for your help in trying to bring the planet's largest sporting event to San Diego.
Thank you for your help and for supporting San Diego's World Cup bid.
Coming Up
We will be opening early at 9 am on Friday, December 4th for the World Cup Draw.  The USA has qualified, and on the 4th we will find out what group we will be drawn into.  Our newly official San Diego American Outlaws chapter will be there in full force.  The following Friay, we will host an evening of draft beers from Avery Brewing in Boulder, Colorado on December 11th with Adam Avery himself.  Our European pub crawl is already half full.  If you have been thinking about signing up, now is a great time.  You can find all of the details and trip itinerary at www.ciaotravel.com.  Finally, you can listen for me on a special pre-thanksgiving Beer 4 Breakfast on 91X on Wednesday morning at 8:15 am.  We will have some Ballast Point Black Marlin Porter Beer Gravy to eat with Maredsous 8 to drink on the air.
Have very happy and safe Thanksgiving holiday.  Enjoy the time with friends, family and good cheer.  We will see you soon for a great beer.  Cheers, Tom
Tom Nickel
O'Brien's Pub
20 Taps – Tons of Hops
Official US Soccer Bar
4646 Convoy Street
www.obrienspub.net