O'Briens Pub – Expo, Wet Hops and Cheese!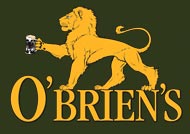 Hello Beer Fans!
I have a ton of great beer news for you this week.  First I have to tell you about AleSmith being named the Small Brewing Company of the Year at the Great American Beer Festival!  The brewery won four medals at the GABF.  Also well represented was Pizza Port Carlsbad and brewer Jeff Bagby who snagged five medals.
Pizza Port Solana Beach, Rock Bottom La Jolla, Port Brewing and San Diego Brewing Company rounded out the San Diego medal contingent.  San Diego took gold (Hopnotic) and bronze (Hop 15) in the double IPA category.  Congrats to all of the winners!  For complete results visit www.beertown.org and click on the link to GABF winners.
Back on the pub front, I am trying to make room for all of the beers coming in next week for the wet hop festival.  And the benefit of this for you is that I have to tap kegs of Alpine Duet IPA and Exponential Hoppiness to make some space.   There are also some other great draft beers on right now including Pizza Port Carlsbad Hop Suey, Avery Kaiser Imperial Octoberfest, Port Brewing High Tide and De Glazen Toren Saison d'Erpe Mere.
Thursday the 16th we have another special dual cask night with beers from Pizza Port Carlsbad – Hop Suey and Poor Man's IPA.  This will be a major double dose of hops.  All local beers will be on special as well.
Friday the 17th I have another special treat.  I was able to secure some of the left over bottles from the San Diego County Fair festival and we will have them out for sale Friday night.  The list includes beers from Jolly Pumpkin, Nogne O in Norway, Danish brewers Mikkeller and Norrebro Brygus, Ridgeway from England, Isle of Skye from Scotland, Jenlain from France, Moylan's, Mendocino, Affligem and many more!  These bottles will have their own special list and as an added bonus – we will be offering 20% off any import on this list to-go on Friday night!
Saturday the 18th we will tap a keg of Green Flash Palette Wrecker which was brewed for Hamilton's 2nd Anniversary – which will be happening Saturday night.  We will have the keg on tap all day and I can assure that it lives up to its name.  We will also have some new meads available on Saturday from Mountain Meadows Mead in Northern California.  We will have the fantastic Honeymoon traditional sweet mead along with Spice Nectar and Agave Nectar, both of which are very tasty.  We also still have some of the Dansk Klapojster caraway mead along with our selection of Redstone Meads – Boysenberry Nectar, Juniper Berry and Traditional.
Sunday the 19th we will be opening up early at 10 am for the Chargers v. Bills game.  We will again be serving up breakfast and mimosas from 10 am to 12 pm.  The food is great, the atmosphere is fun and the chargers just might win two in a row.  So wake up and join us for the game and a great brunch.
Sunday the 19th is also the day of our next Beer and Cheese Tasting with Taste Cheese Shop in Hillcrest.  The first class sold out, but there are some seats left for our tasting on the 19th – which is at the pub at 6:30 pm.  There is also a third class at Taste on Wednesday the 22nd at 7 pm.  Cost is $40 and you can sign up at the pub (cash only please) or call Taste to use a credit card – there is a link to them on our website – www.obrienspub.net.  We have an amazing set of pairings this class and our beer line up is a list of world class examples.  The beers were are using are: Paulaner Hefeweizen, Hacker Pschorr Octoberfest, Duvel, Malheur 10, Oskar Blues Old Chubb, Young's Double Chocolate Stout and Duchesse de Bourgogne.  Sign up today before the classes sell out!
Our Lost Abbey Tasting on November 2nd is sold out, but we do have a waiting list started in case seats open up.
Next week is our annual Wet Hop Beer Festival.  We will have over 20 beers on tap over the three days – Friday thru Sunday, October 24th to 26th.  These beers are only brewed once a year at the time of the hop harvest.  They use fresh, right off the vine hops that have not yet been dried, hence they are still "wet".  These beers use insane amounts of hops, but have a more subtle flavor than IPAs.  The wet hops impart a much different flavor than the normal dried hops.  It only happens once a year and where better to celebrate it than the Hoppiest Place on Earth?
We'll start early on Thursday the 23rd with two wet hop casks from Sierra Nevada – Harvest Ale and ESP (extra special pale).  The ESP is the bottled version of the Sierra Pale Ale (stronger and more bitter than the draft) made with wet hops.  Both of those casks will be on at 5 pm and I expect them to go quick.
Friday night the 24th I will tap all of the beers in 15.5 gallon kegs and two more local casks – Ballast Point Schooner and Stone wet hopped Arrogant Bastard ale.  Both of those casks will be on by 6 pm.  I expect to have at least a dozen draft beers on tap in addition to the casks.
Saturday and Sunday, the 25th and 26th we will tap all of the beers – full kegs and five gallon kegs.  I'll have a jockey box set up for the five gallon kegs so that we can leave a few regular beers on tap.  More than 20 wet hop beers should be available both days.  I will have more details on the beer line up next week before the fest.  Sunday, we will again open early at 10 am and serve breakfast during the Chargers v. Saints game from London.
The week after, I have a cask of AleSmith Evil Dead Red for Thursday the 30th and a draft keg set aside for our Halloween costume party on Friday the 31st!  November 5th is our Chimay Party celebrating 25 years of Chimay being imported into the USA.  We will have all three Chimay beers and the draft along with some food specials using the Chimay cheeses.  November 8th is the San Diego Brewers Guild Festival at the World Beat Center.  Visit www.sandiegobrewersguild.org for info and tickets.
I have a correction to add from the last email – Ballast Point's Anniversary Party on the 25th is at Liberty Station, not at the brewery as I wrote.  And for those that live near or have cause to eat out in La Mesa, I have an Italian restaurant recommendation – Antica Tratotoria.  It is tucked away in an unassuming strip mall like O'Brien's, but it has some of the best Italian food in town.  Check them out at www.anticatrattoria.com.
That is your good beer news for now.  We'll see you soon for a great beer.  Cheers, Tom
Tom Nickel
O'Brien's Pub
20 Taps – Tons of Hops
4646 Convoy Street
www.obrienspub.net