O'Briens – Firestone, Nor. Cal and Expo!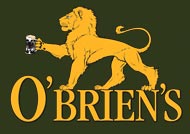 From Tom Nickel, O'Briens Pub – San Diego, CA
Hello Beer Fans!
As always, there is a lot of great beer news to tell you about this week. The big happening in the industry is the nation wide one day theater release of the movie Beer Wars. It will be shown Thursday night, April 16th in several theaters around town including in Mission Valley. After the movie, a live panel featuring big names in beer interviewed by Ben Stein will be simulcast to the theaters. This is the first airing of the documentary that follows the growth of craft beer against the back drop of the big three brewers in the US. For more info and show times, visit www.beerwarsmovie.com.
Back on the local front at the pub, we are featuring Firestone Brewery this week. The brewery has won more awards than I can remember. Head brewer Matt Brynildson is just an amazing brewer. And if you are driving up the 101 through Paso Robles the brewery is less than 100 feet from the freeway and worth the stop. The tasting room has an excellent selection of beers – available by the pint. On the weekends, there is even BBQ food for sale. So forget about Paso as Wine Country – it is good beer country as well.
Thursday the 16th we will tap a cask of Firestone Walker's Reserve Porter at 5 pm. This is the first time that we have had this delicious porter cask conditioned and I am expecting it to be very tasty. Friday the 17th we will have three beers on tap from Firestone – Lil Opal Wit, Union Jack IPA and Abacus barrel aged barleywine. The Lil Opal Wit is already on tap and tasting great. I will miss the Firestone night as I will be in Chico at the Sierra Nevada brewery with friends Jeff Bagby and Tomme Arthur for Beer Camp. The three of us will get to collaborate on a recipe for the brewery's pilot system that will then be served down here when it is ready. So look forward to something good in about 6 weeks from Sierra.
Beer and Cheese Three
We have added a third class on Sunday, May 3rd at O'Brien's at 6:30 pm due to popular demand since our first two classes sold out so quickly. We have set the final pairings for the class and I am very excited about it. We have several firsts in this upcoming class that are very different from the pairings we have done in the past. Among things we are using for the first time – a double IPA, an English cider, Parmigianno Reggiano cheese and the Malheur Dark Brut. Cost for the class is $40 and will include 7 beers and 8 cheeses total. You can sign up at the pub (cash only please) or contact Taste (find the link on our friends page of the website) to pay with a credit card. We already have more than 25% of the seats sold for the third class and like the two previous classes, we expect this one to sell out. If you want to go, I would make sure you buy your tickets by the 24th to guarantee a spot.
Next Week and Beyond
Thursday the 23rd we are having a farewell party for Coral. She is moving on after 2 and half years at the pub. We will have a very special cask from Ballast Point – Reef Rye Brown Ale. This is the only keg or cask of this beer to leave the brewery. And since it is one of Coral's favorites, we will also have the Port Brewing Old Viscosity on tap. And Lindsey will be cooking up a batch of her famous beer chili along with some other great food specials. So please stop by and help us say good bye and good luck to Coral on her last night. And don't worry, Coral has already promised to become a regular on the other side of the bar!
Friday the 24th we are hosting a night of Northern California beers. In addition to our regular Bear Republic, Sierra Nevada and Russian River beers we will be featuring Drake's Denogginizer double IPA, Marin IPA, Moylan's Double Kiltlifter and a collaboration beer from Triple Rock and Chuck Silva, head brewer at Green Flash – Red Rock Rye. In all, we should have at least 8 Nor Cal beers on tap. And if you miss them on Friday, I expect them to be on tap all weekend.
Wednesday, April 29th we will be throwing a double birthday party for Pat McIllhenney of Alpine Beer Company and Tyson Blake from San Diego Brewing Company. To celebrate the occasion we will have a fantastic line up of beer – casks of Alpine Exponential Hoppiness and Lagunitas Correction Ale – a brand new strong IPA that we are the first to get down here. We will have draft kegs of Ballast Point Victory at Sea and Dogfish Head Aprihop – an IPA made with apricots, fruity, hoppy and quite delicious. So join us for great beer and good friends.
Looking further ahead, we will have an AleSmith IPA cask on Thursday, April 30th. VIP tickets for the San Diego Real Ale Festival will be on sale on Friday, May 1st at www.pizzaport.com. The fest is June 12th and 13th and will feature more than 50 cask conditioned beers. VIP tickets will be $40. Stone Imperial Russian Stout will be on cask on Thursday, May 7th. And later in May you can look forward to Ballast Point Sculpin IPA on cask and the long awaited return of Alpine Bad Boy on draft.
Bowling for the Animals 2009
The 11th Annual Bowling for the Animals will take place Sunday April 26th, 2009 at the Vista Entertainment Center and our own Micaela Cano is heading up Team O'Brien's (along with Kat and Tiff). Bowling for the Animals is an annual fundraising event. Bowlers and supporters collect sponsorship pledges from friends, family, and fellow animal lovers. The 2009 event will benefit an exciting new project: a stationary clinic dedicated to low-cost spay/neuter!
SNAP is a nonprofit organization dedicated to the goal of "zero euthanasia" of adoptable companion animals in San Diego County. SNAP raises public awareness through education, and provides the public with access to reduced-rate spay/neuter for their pets. The 2008 even raised $13,000 to benefit SNAP and the Feral Cat Coalition.
Micaela has donation and sponsorship forms at the pub if you would like to help us support her and Team O'Brien's in Bowling for the Animals.
That is your good beer news for now. We'll see you soon for a great beer. Cheers, Tom
Tom Nickel
O'Brien's Pub
20 Taps – Tons of Hops
4646 Convoy Street
www.obrienspub.net