Ninkasi Brewing Announces 19.2 oz Cans of Tricerahops Double IPA
(EUGENE, OR) —  Ninkasi Brewing Company is excited to announce the second installment of their 19.2oz. can comic universe: Tricerahops Double IPA, available on shelves now. Though a classic Ninkasi brew since 2007, Tricerahops continues as a favorite among hop enthusiasts, making it the perfect companion to join Megalodom Legendary IPA in the 19.2oz comic can universe. Both cans feature artwork from Dark Horse Comics artist Eduardo Francisco.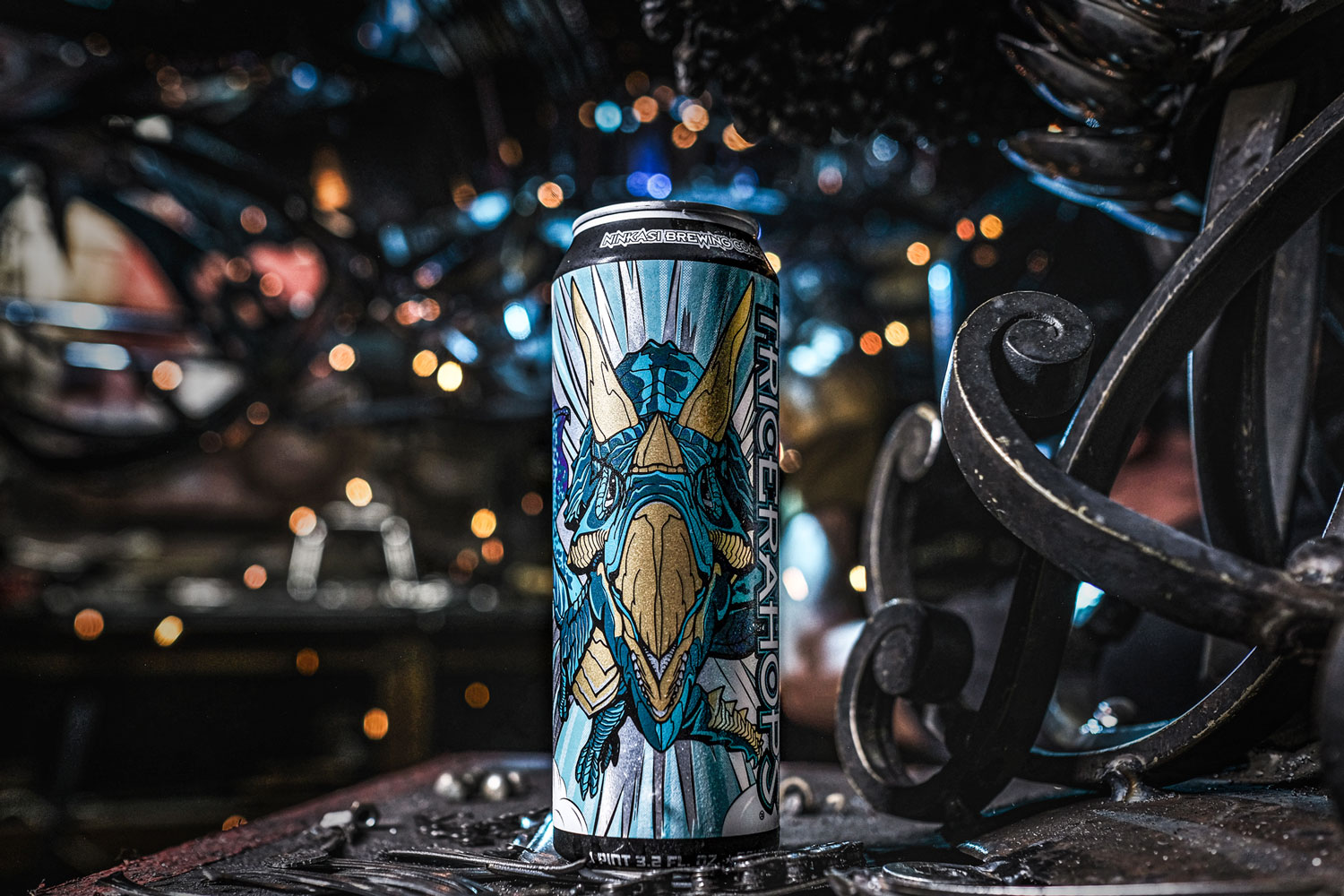 "Eduardo Francisco has really brought Tricerahops to life," said Ninkasi co-founder Jamie Floyd. "We're excited to show the Ninkasi comic universe unfold on these 19.2oz cans, as it is a story I have been developing with some help of Nikos Ridge, Ninkasi's co-founder, over our almost-15 years in existence. This art really does the beer justice."
Megalodom Legendary IPA, the first in the comic can series, was originally released in December 2019. Ninkasi's comic can series with Dark Horse Comics will continue to evolve throughout 2020 and beyond, with a guardian of the Goddess to come this fall, and other merchandise to celebrate the comic universe to follow.
Ninkasi's year-round lineup offers a full spectrum of beer styles, including their flagship Total Domination Northwest IPA alongside Tricerahops Double IPA, Prismatic Juicy IPA, Hazy Domination IPA, Pacific Rain Northwest Pale, Oatis Oatmeal Stout, Brightberry Raspberry Lime Ale, Pilsner Cold Fermented Lager, Dawn of the Red IPA, Heart and Science West Coast IPA, Juicy Domination Tropical IPA, and Megalodom Legendary IPA.
For all Ninkasi beers, including seasonal offerings, visit ninkasibrewing.com/beers.
Tricerahops Double IPA 19.2oz Can
Legend has it that Tricerahops, loyal companion of the goddess Ninkasi, acquires his powers of strength and combat from beer. While research is still out to determine which hops allow for these mystical abilities (our lab is working on it), we believe this Double IPA is close. Its floral aromas collide with a splendor of earthy hop notes to create a beer suitable for a magical beast like Tricerahops himself.
Style: Double IPA
Available: Now
ABV: 8%
IBU: 84
Malt: 2-Row Pale, Munich, Carahell
Hops: Chinook, Cascade, Summit, Centennial, Palisade
Packaging: Draft; 19.2oz. can (12oz. 6-packs available in non-comic art)
Distribution: Alaska, Arizona, California, Colorado, Idaho, Montana, Nevada, Oregon, and Washington.
About Ninkasi Brewing Company
Founded in 2006 by Jamie Floyd and Nikos Ridge, Ninkasi Brewing Company is the nation's 38th and Oregon's third largest independent craft brewery (Brewers Association, 2019). Ninkasi continues to grow from its first batch of Total Domination IPA to three brewhouses, with 55-barrel, 90-barrel brewhouses, and a 5-barrel pilot program located in Eugene, Oregon. Ninkasi's Flagship beers are sold throughout Alaska, Arizona, California, Colorado, Idaho, Hawaii, Montana, Nevada, Oregon, and Washington. The brewery remains privately-owned and is committed to community support and giving. Ninkasi's Beer Is Love program offers in-kind donations and support for organizations throughout its distribution footprint. Ninkasi's first restaurant, the Better Living Room, opened on its Eugene, Oregon campus in February 2020, soon to be followed by an experience in Tumwater, Washington in September 2020.