New New Glarus Beers Coming Soon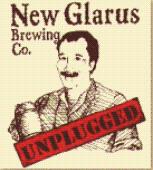 New Glarus Brewing just sent us some details on a few new beers coming, some of which are in the R&D Series, and one in the famous Unplugged Series. Cheers, TFP !
Unplugged Abt ♦ R&D Bourbon Barrel Kriek ♦ R&D Gueuze
Unplugged Abt – A few times a year we cut Dan loose to brew whatever he chooses, uncensored, uncut, unplugged. Always handcrafted, the bottle you hold is brewed for the adventurous soul.  This is a very limited edition and we make no promises to ever brew this style again.
Flemish monks brewed the first Abt. A voluptuous temptress they named for their Monastery Abbot. Belgian Dark Candi Sugar encourages the decadence of rum, raisin dark chocolate and sherry like fruit tones to conspire happily in almost 20˚ Plato. Rich and full bodied this is one to lie down or if you are bold enjoy now, but take your time – linger. This beer cries to be sipped and enjoyed.
R&D Bourbon Barrel Kriek – 1,500 bottles @ 500 ml each
Ale infused with a large dose of sour cherries. Fermented in an Oak Vat using a blend of Ale Yeast and Lactobacillus. Then aged in freshly dumped bourbon barrels. Strongly Sour with intense cherry overtones married to oak and bourbon character.
R&D Gueuze – 1,900 bottles @ 500 ml each
Brewed = March 24, 2009
Bottled = August 6, 2010
Batch = 10 bbls
OG = 14 °P
ABV = 6.2%
IBU's = 15
Brewed in the tradition of the Lambics of Belgium but using a blend of Ale Yeast, Brettanomyces, Lactobacillus, Pediococcus, and Acetobacter. These microorganisms came from our culture collection as well as many collected by Dan around the wilds of Wisconsin! Fermented and aged in Oak. This beer spent the summer of 2009 aging outdoors in used oak barrels. Then bottle fermented. This is a funky and very sour beer not for the faint of heart. If you are unfamiliar with sour or Brettanomyces beers you may want to pass this one up!