New Holland / Carhartt Collaboration is Named The Carhartt Woodsman
(Holland,MI) – In February, Carhartt, America's legendary work wear brand since 1889, and New Holland Brewing Co., brewers of craft beer and spirits, announced a partnership brew crafted to celebrate the Michigan-based clothing company's 125th anniversary and to pay tribute to the hard-working people who wear the brand. The brew will be released in fall 2014 and now has a style, name and distinctive packaging to round out the plans.
"We couldn't be more excited about this project," says New Holland president and founder, Brett VanderKamp. "We are both inspired by our consumers, and have enjoyed sharing so many great stories. 'The Carhartt Woodsman' is an easy going, session-strength pale ale with a unique signature from barrel aging."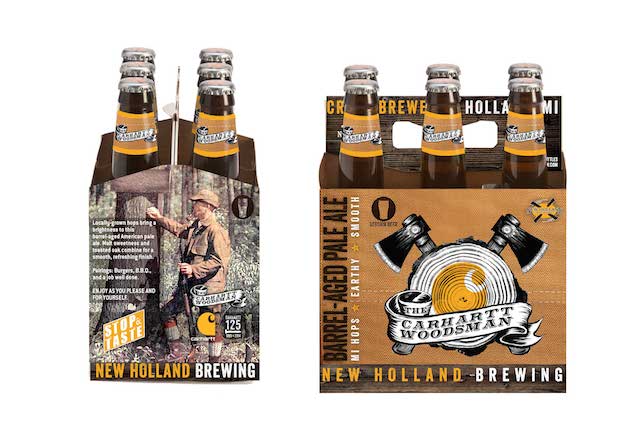 "This beer is not only a celebration of Carhartt's 125th anniversary, it's first and foremost a salute to hard-working men and women who deserve a refreshing reward after a long day's work," said Tony Ambroza, senior vice president of marketing at Carhartt. "A flavorful Carhartt ale from an authentic partner like New Holland is the perfect way to honor our consumers and the hard work they do each day."
The Carhartt Woodsman is a reflection of the companies' shared value of craftsmanship and the customer experience. It is inspired by history, including Hamilton Carhartt's legendary horse and wagon deliveries, New Holland's robust barrel aging program and even The Tin Woodsman, from The Wizard of Oz, penned in Holland, Michigan by L. Frank Baum in 1899, when Carhartt was already ten years old.
"The Tin Woodsman was all about heart, which translates to passion and integrity, ideals that course through the veins of our companies and our customers," said vice president of sales & marketing at New Holland, Fred Bueltmann.
The beer will be available in multiple states, including anywhere New Holland is currently sold. The brewery also plans to introduce The Carhartt Woodsman to a few new states, particularly fond of Carhartt. Beer lovers, brewers and Carhartt customers from all over the country will get a chance to experience the remarkable collaboration as it is debuted at the Great American Beer Festival (GABF) in Denver, Colorado – October 2 through October 4.
The Carhartt Woodsman – Barrel-Aged Pale Ale will release in states across the country in fall 2014. Michigan-grown Cascade hops bring a brightness to this barrel-aged American pale ale. Malt sweetness and toasted oak combine for a smooth, refreshing finish. This is the ideal session ale, with a 4.5% ABV. It's perfect for those conversations that last longer than a pint. Pairings: Burgers, BBQ, and a job well done.
***
About New Holland Brewing Co.
New Holland Brewing Company's deep roots in the craft industry go back to 1997. Our role as an integral member of the artisan approach is something we take seriously, yet engage lightheartedly. We believe the art of craft lives in fostering rich experiences for our customers, through creating authentic beer, spirits and food while providing great service. Recognized for our creativity and artistry, our mission to improve the lives of craft consumers everywhere is seen in our diverse, balanced collection of beer and spirits.
newhollandbrew.com
About Carhartt, Inc.
Established in 1889, Carhartt is a global premium work wear brand with a rich heritage of developing rugged apparel for workers on and off the job. Headquartered in Dearborn, Mich., with approximately 4,000 employees worldwide, Carhartt is privately owned and managed by the descendants of the company's founder, Hamilton Carhartt. For more information,
visit www.carhartt.com