New Holland Brewing Announces Plans For Renovations To Downtown Holland Pub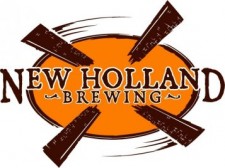 After two years of planning, New Holland Brewing Co. began construction Monday, February 4 to renovate their Pub located at 66 E. 8 th Street in downtown Holland. Excitement has been building as New Holland waits on the final approval from the City Council on the full plans, which should happen next week.
The renovations include:
Expanded kitchen
Revamped area behind the bar
More taps for improved service
Additional cask taps
NEW! family bathrooms
NEW! beer garden on the south side of the building
The beer garden will be a substantial new feature, including expanded seating, an outdoor bar and music stage.
"The beer garden is a big part of the renovation. One we've really put a lot of thought into," said NHBC Director of Chaos, Dave White, "We are putting the same artful consideration into the details as we do our beer and spirits. This is a labor of love."
Additionally, the kitchen renovations will contribute to the atmosphere of the Pub.
"We are excited about the continued development of our downtown property with a 1million dollar renovation," ,says President Brett VanderKamp, "Building a streamlined kitchen system will allow for the kinds of events we're passionate about like – farm-to-fork beer dinners and tastings. It will also create 4-6 new job openings within the company upon completion."
The renovation will take place in stages, with the interior changes finishing up by March 2013 and the beer garden build finalizing by May 2013.
"We're really looking forward to sharing the process with our customers and the community, without inconveniencing folks too much," says White, " We plan to keep noise and clutter to a bare minimum and sharing progression photos, so people can see what's happening 'behind the curtain'. This is an exciting project and we can't wait for people to have more space to enjoy good beer, spirits and food with their friends and family. We're about creating experiences and we think this renovation will give people a place to enjoy their lives."
Photos will be shared on New Holland's Pub & Restaurant page: https://www.facebook.com/newhollandbrewpub
New Holland Brewing Company's deep roots in the craft industry go back to 1997. Our role as an integral member of the artisan approach is something we take seriously, yet engage lightheartedly. We believe the art of craft lives in fostering rich experiences for our customers, through creating authentic beer, spirits and food while providing great service. Recognized for our creativity and artistry, our mission to improve the lives of craft consumers everywhere is seen in our diverse, balanced collection of beer and spirits.
New Holland brews and distills at two locations in Holland, Michigan: our production facility on the north side and our Pub & Restaurant in downtown Holland. The restaurant welcomes guests seven days a week and production tours are on Saturday afternoons. We welcome visitors and locals alike, and appreciate the opportunity to share our artisan approach through warm hospitality and enriching education.
With just under 150 employees, New Holland Brewing Co. sells its beer and spirits across a growing regional landscape, while anchored in the upper Midwest. In 2012, our production facility underwent substantial development including the tripling of our brewing capacity through outdoor fermentation, the addition of a centrifuge and the expansion of our Dragon's Milk cellar. In 2013, the company is expanding its distilling capabilities, renovating the downtown Holland Pub & Restaurant and focusing on the integration of Michigan agriculture; hops, wheat and barley, into several new and existing brands.
www.newhollandbrew.com – @NewHollandBrew – facebook