New Glarus Unplugged Series – Enigma Added to Lineup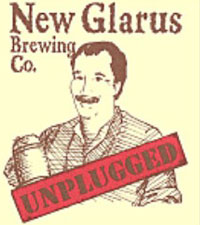 New Glarus Brewing Company's Daniel Carey (Diploma Master Brewer) loves to play with flavor in unexpected ways. Due to this drive, New Glarus Brewing Company's offerings of over 50 different brews since their inception in 1993 are extremely broad and varied. There are few breweries, if any, that can make such a claim. Often, the brews that are created don't fit into the nice, neat categories that the majority of brews in the world are known by. Daniel Carey continues to defy descriptions with his latest Unplugged brew, Enigma.

Historically sour beers are often ignored and misunderstood. Daniel Carey, however, has "always been drawn to this style, as long as I can remember". The sour brown ales from Belgium rank in his top favorite brews. To play to his love of this style, he has taken this brewing method and made it his own. The result of this exclusive experiment leaves all fans of New Glarus Brewing Company with a truly unique beer. Not really a sour brown ale, not really a fruit beer. Truly an Enigma.
Beer writer Stephen Beaumont's innocent inquiry to Deborah Carey as to the description of this brew's flavors is how this beer acquired it's name. Since that time, Enigma has received medals in both the 2003 Great American Beer Festival and the World Beer Cup in 2004. Originally released in 2003, Enigma is making a return to shelves throughout Wisconsin, despite the fact that New Glarus Brewing Company makes no promises to brew any of their Unplugged beers again. The comeback this spring of Enigma is entirely due to overwhelming demand by New Glarus Brewing Company fans in the vote for this year's line up in the fall of 2009. (If there is a New Glarus brew that you are hoping will be brewed next year, be sure to check www.newglarusbrewing.com in the fall for the vote for next year's brewing schedule.)
A complex and intriguing original. The mystery began with wild yeast spontaneously fermenting a rich treasure of malted barley and cherries. Unlined Oak casks breathe deep vanilla hues and chords of smoke into this sour brown ale. Master Brewer, Daniel Carey, has forged a smooth garnet tapestry that defies description. Wander off the beaten path.