New Glarus Brewing's Octoberfest; Wisconsin's Real Red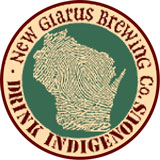 New Glarus, WI – Preparation for the changing season begins. Fall cleaning, leaves changing, and of course, Octoberfest.
Whether you plan to ring in the fall or celebrate the end of a hard summer's work, New Glarus Brewing Company is proud to offer their Octoberfest to herald the change in season.
True to style, New Glarus Brewing's 'Staghorn Octoberfest' is brewed using the time honored methods and an extra slow lager to release the smooth flavor of roasted malts. You will find absolutely no additives, preservatives, or artificial agents of any kind in this bier, and over 1,100 lbs. of malted barley in every handcrafted batch. 100% natural, great Midwest barleys, the world's most expensive hops, fresh yeast from Germany, and clear Wisconsin water make Staghorn an authentic Octoberfest.
Expect this bier to pour with a rich head of foam that will enhance its incredible spice bouquet. 'Staghorn Octoberfest' combines a smooth amber body with a clean crisp finish. Be sure to hold this one up to the light of the harverst moon and enjoy.