New Dank Tank Release From SweetWater Brewing – "The Price Is Wrong"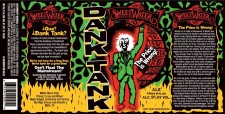 Atlanta, GA – The folks at SweetWater Brewing are unveiling a big prize behind door number 420 – a new release from their infamous Dank Tank series, The Price is Wrong. The latest item up for bid out of El Danko's lineup is a funky Belgian Strong Pale Ale promising nothing but big wins for drinkers on contestants' row.
Brewers serve up high-gravity Belgian style ale to debut in mid-August on draft and in bombers
The bronze Belgian behemoth is turning up with 79 IBUs and 9% ABV on the big wheel. With a malt bill including Maris Otter, Pilsner, 2-row and wheat, the beer pours a bright golden color. It's balanced out with herbal and pine notes from Nugget, Centennial and Simcoe hops, and then dry-hopped with Simcoe and Amarillo to give it a citrus nose.
"The Price is Wrong is a classic style Belgian with a SweetWater twist. We've enhanced it with some of our favorite hops to bridge two styles together for a big refreshing beer," said SweetWater's head brewer Nick Nock. "It's made with Belgian yeast which is really exciting for us as brewers because it's complex, reacting with fermentation temperatures giving off a different flavor and aroma with each degree. Be careful though, this drinkable beer is packing a punch!"
The backstory of the beer is highlighted on the label and features Danky's latest shenanigans as a caddy for Boob Barker. After a golf course scuffle with the game show legend, the Dankster finds himself on stage playing Cliff Hanger through a rigged spot as a contender on the Price is Wrong. He ends up taking home one of Barker's Belgian beauties, conceives love-child Barnold Schwarzenkegger and the rest is history! For more on the story, visit sweetwaterbrew.com/brews/dank-tank.
This biggun' will be barreling out in 22-ounce bombers and on draft taps throughout the Southeast beginning the week of Aug. 12. Locals can sip on samples at the brewery's weekly tours beginning Thursday, Aug. 8. As with all Dank Tank series brews, it's a limited run, so fans are encouraged to pick them up, quaff them down or store them in their cellar while they can. If the price is wrong, we don't want to be right!
About SweetWater Brewing Company
SweetWater Brewing Company is an Atlanta-based craft brewery following the motto "Don't Float the Mainstream!" SweetWater's brews are unpasteurized and designed to be consumed fresh so distribution is limited to the Southeast. The award-winning lineup of year-round brews includes SweetWater 420, IPA, Blue, LowRYEder and Georgia Brown. SweetWater also features a Catch and Release series of beers available on a limited basis throughout the year, and an experimental, one-time-only Dank Tank series. SweetWater Brewery, open for tours every Wednesday, Thursday and Friday from 5:30-7:30 p.m., and Saturdays and Sundays from 2:30-4:30 p.m., is located at 195 Ottley Dr. in Atlanta. For more information about SweetWater Brewing Company, please visit
www.sweetwaterbrew.com – @sweetwaterbrew – facebook