New Belgium Wants Everyone To "Enjoy the Ride"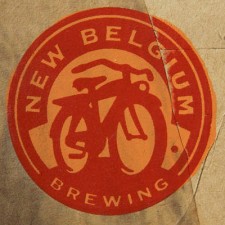 New Belgium Encourages Everyone to "Enjoy the Ride"
Summer Campaign Celebrates Fat Tire, Bike Riding and Storytelling
Ft. Collins, CO – New Belgium Brewing, maker of Fat Tire Amber Ale, is ready to embrace the summer season with this year's "Enjoy the Ride" campaign. As a follow-up to last year's 20th Anniversary "Joy Ride" campaign where fans submitted their Fat Tire stories, this year's Enjoy the Ride will share those stories on packaging, Point of Sale and online. From Memorial Day through Labor Day, friends of New Belgium will be able to Enjoy the Ride through bike giveaways, storytelling, socializing venues, social media and more. The Enjoy the Ride campaign is a fusion of Fat Tire love, the enjoyment of life, passion for bikes and socializing with friends in person and through social media.
Throughout the campaign, New Belgium will give away a total of 2,500 coveted Fat Tire cruiser bikes. The bicycles will be awarded in New Belgium markets, on the New Belgium website and through social media. People can experience Enjoy the Ride on Facebook, Twitter, Instagram, www.newbelgium.com; at Tour de Fat and Clips of Faith; and by following local Beer Rangers to learn about store giveaways and events.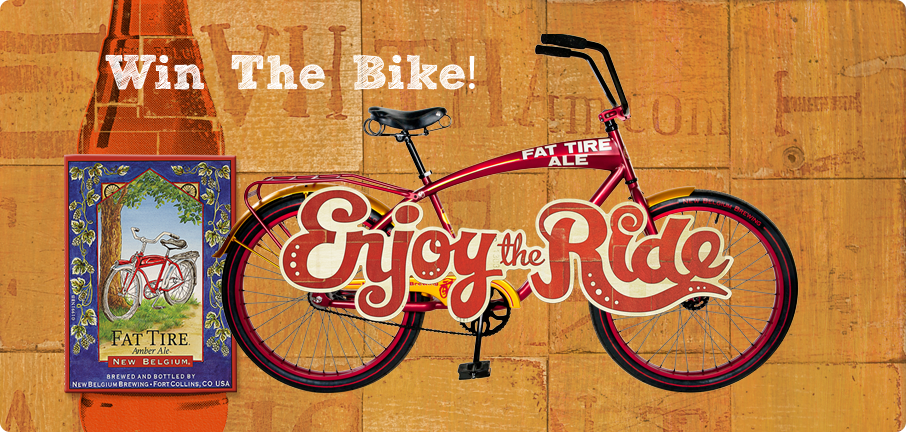 On www.newbelgium.com, you can visit the "Enjoy the Ride" page to discover a collection of fan-authored stories, photos, games and voicemails served up for enjoying and sharing. New Belgium will give away bikes to its most engaging friends and folks who create the coolest "beer-a-mid." Random drawings will also be announced weekly.
Twitter lovers are encouraged to construct a 140-character "Enjoy the Ride" story incorporating #enjoytheride. New Belgium will follow the conversation and judge the best follower-generated stories. Though Instagram, followers can share a picture and tag it with #enjoytheride.
New Belgium also has a growing market of free apps for both iPhones and Android phones. Look for the "Enjoy the Ride" app to upload Instagram photos, read and share stories and even win a bike.
New Belgium encourages everyone to join in the fun this summer; there are several ways to participate and Enjoy the Ride.
Follow #enjoytheride Instagram and Twitter feeds. Tweet your best story using #enjoytheride and you'll be entered to win a Fat Tire cruiser.
Read personal Fat Tire stories on all 12-ounce and 22-ounce Fat Tire bottles and postcoasters and even submit a story for consideration
Get to know your local Ranger (in person or on Facebook) to see what's going on in your neighborhood (rides, scavenger hunts, etc.)
Watch the professionals Enjoy the Ride at the U.S. Pro Cycling Challenge and support bike nonprofits through glassware giveaways at viewing parties
Come tour the brewery and be prepared to share your Fat Tire love stories
In the brewery's Liquid Center, stop by the photo booth, now affectionately called the "Socialization Station"
For more information on the brewery and the Enjoy the Ride campaign, visit facebook.com/newbelgium or www.newbelgium.com, and follow @newbelgium.
About New Belgium Brewing Company
New Belgium Brewing Company, makers of Fat Tire Amber Ale and a host of Belgian-inspired beers, began operations in a tiny Fort Collins basement in 1991. Today, the third largest craft brewer in the U.S., New Belgium produces nine year-round beers; Fat Tire Amber Ale, Sunshine Wheat, Ranger IPA, Belgo IPA, Shift Pale Lager, Blue Paddle Pilsner, 1554 Black Ale, Abbey and Trippel, as well as a host of seasonal releases. In addition to producing world-class beers, New Belgium takes pride in being a responsible corporate role model with progressive programs such as employee ownership, open book management and a commitment to environmental stewardship. For more information, visit newbelgium.com.