New Belgium Releases Rewind and Spring Blonde
(Ft. Collins, CO) – New Belgium Brewing reveals two new beers that both take a look back in time. In the Hop Kitchen Series, Rewind pays homage to the brewery's Belgian roots and the craft-brewing heyday of the early 90's. The India Pale Ale is brewed with Maris Otter and Special B malts, which give a big sweet background to a palate of Horizon, Willamette and Galena hop varieties. Rewind is 7% ABV.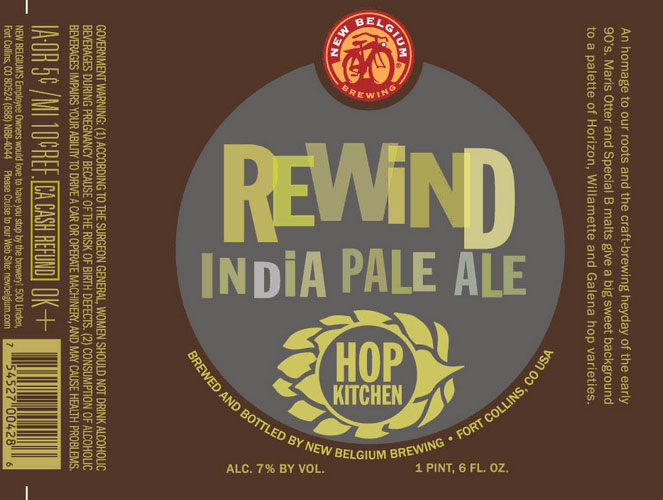 For the spring seasonal, New Belgium created Spring Blonde. This Belgian-style ale gets its inspiration from the spring trip to Belgium that all employee-owners can experience in honor of their five-year work anniversary. The adventure is a tribute to the bike trip New Belgium's co-founder Jeff Lebesch took in the late 80's that inspired him to brew Belgian beers.
Spring Blonde is a golden ale brewed with pale malts. It pours bright copper and holds a strong, white head aloft. Opening with a nose of lemon peel, pepper and a kiss of honey, this ale drinks malty, sweet and wonderful. Nugget hopping pedals towards a dry, lightly bitter finish, perfect for spring or any time. 6% ABV.
"The Spring Blonde is a tribute, an honor to traditional Belgian ales," said New Belgium Assistant Brewmaster Grady Hull. "Blondes are also a favorite style among New Belgium employee-owners so this beer definitely has special meaning for us."
For a look at New Belgium's year-round portfolio, visit – http://www.newbelgium.com/Beer/year-round.aspx, which will soon include the brewery's latest year-round offering Snapshot Wheat, an unfiltered wheat beer. To find New Belgium beers near you, use the New Belgium Libation Location tool: http://www.newbelgium.com/beer/locator.aspx. Pricing varies by location.
About New Belgium Brewing Company
New Belgium Brewing, makers of Fat Tire Amber Ale and a host of Belgian-inspired beers, is recognized as one of Outside Magazine's Best Places to Work and one of the Wall Street Journal's Best Small Businesses. The 100% employee-owned brewery is a Platinum-level Bicycle Friendly Business as designated by the League of American Bicyclists, and one of World Blu's most democratic U.S. businesses, and a Certified B Corp. In addition to Fat Tire, New Belgium brews eight year-round beers; Ranger IPA, Rampant Imperial IPA, Shift Pale Lager, Sunshine Wheat, 1554 Black Ale, Blue Paddle Pilsener, Abbey Belgian Ale and Trippel. Learn more at www.newbelgium.com.