New Belgium and Odell Brewing Create FOCOllaboration Ale
(FORT COLLINS, COLO.,) – Born out of mutual respect and appreciation comes FOCOllaboration Ale, the first beer ever brewed collaboratively from both Odell and New Belgium Brewing. FOCOllaboration, an American Pale Ale, pours a deep, coppery hue. Caramel-kissed Fawcett Crystal Malt (an Odell favorite) delivers sweet, malty tones while Centennial, Cascade and Citra hops (New Belgium staples) offer herbal, fruity and piney notes. At 6.7% and 55 IBUs, FOCOllaboration offers a Colorado craft beer mashup for the ages.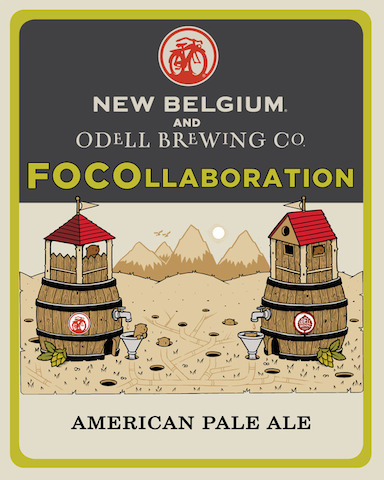 "Over the years we've shared everything from laughter, to beers, to perspective," said New Belgium Brewing CEO, Kim Jordan. "FOCOllaboration celebrates that camaraderie and the mutual respect of being a couple of brewers who grew up together in the same neighborhood."
Odell and New Belgium are located less than a mile apart in what has been affectionately called the Beermuda Triangle of Fort Collins Brewing.
"After working just down the street from each other for 23 years, it seemed the right time to brew something together," said Odell co-founder, Wynne Odell. "Our collaboration beer combines our long term friendship with our collective creativity resulting in a delightful, neighborly brew.
FOCOllaboration Ale is available now thru New Belgium's Hop Kitchen series and will be available throughout Odell's and New Belgium's areas of distribution.
About Odell Brewing
Founded in 1989, Odell Brewing was started by Doug Odell, his wife Wynne, and his sister Corkie. Today, the culture of family and collaboration still thrives fostering a brewery full of beer-centric people. It is this passion for beer that inspires Odell Brewing to create quality, hand-crafted, innovative brews. As a regional craft brewery, Odell Brewing is committed to serving the communities in which it distributes by minimizing its environmental impact, sourcing local raw materials, and through its charitable giving program known as Odell Outreach. Odell Brewing was named a "Best Company to Work For" in 2013 by ColoradoBiz Magazine and is an award winning brewery, nationally and internationally: 2014 World Beer Cup® – gold for Runoff, 2013 Great American Beer Festival® – gold medal for 5 Barrel Pale Ale, 2012 Brewers Association Recognition Award, 2011 Great American Beer Festival® – gold medal for Friek, 2008 World Beer Cup® – gold for IPA. 2007 Great American Beer Festival® – gold medal for IPA.
About New Belgium Brewing Company
New Belgium Brewing, makers of Fat Tire Amber Ale and a host of Belgian-inspired beers, is recognized as one of Outside Magazine's Best Places to Work and one of the Wall Street Journal's Best Small Businesses. The 100% employee-owned brewery is a Platinum-level Bicycle Friendly Business as designated by the League of American Bicyclists, and one of World Blu's most democratic U.S. businesses, and a Certified B Corp. In addition to Fat Tire, New Belgium brews nine year-round beers; Ranger IPA, Rampant Imperial IPA, Shift Pale Lager, Snapshot Wheat, Sunshine Wheat, 1554 Black Lager, Blue Paddle Pilsener, Abbey Belgian Ale and Trippel. Learn more at www.newbelgium.com.