New Belgium Pedals Into Indiana On April 20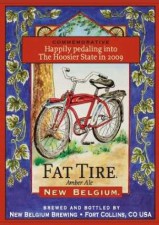 Brewery Brings Bombers of Fat Tire, 1554 and Mothership Wit to the Hoosier State
New Belgium Brewing, the third-largest craft brewer in the U.S., today announced that 22-ounce bombers of Fat Tire, 1554 and Mothership Wit will be available throughout Indiana beginning April 20. Indiana is one of four new markets for New Belgium in early 2009.
"We're excited to be rolling into Indiana," said Bryan Simpson, spokesperson from New Belgium. "There's a savvy bike scene and an appreciation for good beer so it should be a great fit all around."
New Belgium is nationally recognized for its progressive environmental practices. By tapping into one of its core values of environmental stewardship, consumers can enjoy their new favorite beers even more. All of New Belgium's beers are produced at a brewery where choices like reduced greenhouse emissions, green building techniques and water conservation are a cultural way of life.
Indiana residents looking to learn more about New Belgium can check out the New Belgium newsletter, The Tinkerer: www.newbelgium.com/the-tinkerer or New Belgium's site: www.newbelgium.com. For those who love man's greatest invention (the bicycle) as much as New Belgium, join Team Wonderbike today: www.teamwonderbike.com.
Here are the beers New Belgium is bringing to Indiana:
Fat Tire
Like the ageless delight of pedaling a bicycle, Fat Tire Amber Ale's appeal is in its feat of balance: Toasty malt flavors (sorta like biscuits just pulled from the oven) coasting in equilibrium with crisp hoppiness. Delicious stability – in the world of sometimes-precarious beer flavors – is perhaps what prompted one consumer to say, "This beer just makes you smile."
Fat Tire's depth of flavor, achieved with neither a disproportionate sway toward hops or malts, tandems well with a full spectrum of today's engaging cuisines. Salmon, dry-aged cheeses, roasted chilies, omelets at midnight, sweet potato French fries and just about anything with grill marks or garlic are just a few of the edibles we like to partner up with our Amber Ale.
1554
Other than being dark in color, 1554 has little in common with Porters or Stouts. The beer is fermented at relatively high temperatures using a European lager yeast that imparts a refreshing, zesty acidity. Chocolate and coffee tones in the nose give way to a surprisingly clean finish. With 1554 we hoped to create a beer similar to what folks enjoyed nearly five-hundred years ago without ignoring five-hundred years of technological innovation.
Mothership Wit
New Belgium's first organic beer offering, Mothership Wit elevates the zesty Wit or White beers of Belgium with wheat malt, coriander and orange peel spicing – all of which are organically grown. The Mothership experience begins with a cloudy pale yellow appearance capped by a creamy white head. Next is the alluring, slightly spicy, floral nose. The refreshing taste is the result of a gravitational balance of citrus and sour flavors held in suspension by a bright burst of carbonation.
By mid-2009, New Belgium beers will be available in 26 states across the United States. Fat Tire is the brewery's flagship brew, with its other year-round and seasonal Belgian beers recognized for their mature flavors, unique history and high quality ingredients.
About New Belgium Brewing Company
New Belgium Brewing Company, makers of Fat Tire Amber Ale and a host of Belgian-inspired beers, began operations in a tiny Fort Collins basement in 1991. Today, the third largest craft brewer in the U.S., New Belgium produces seven year-round beers; Fat Tire Amber Ale, Sunshine Wheat, Blue Paddle Pilsner, 1554 Black Ale, Abbey, Mothership Wit and Trippel, as well as a host of seasonal releases. In addition to producing world-class beers, New Belgium takes pride in being a responsible corporate role model with progressive programs such as employee ownership, open book management and a commitment to environmental stewardship. For more information, visit www.newbelgium.com.