New Belgium Brewing Introduces Snapshot Wheat for 2014
(Ft. Collins, CO.)  – New Belgium Brewing is proud to announce their newest year-round beer offering, Snapshot Wheat. Snapshot, an unfiltered wheat beer with a citrusy nose, a sweet malt profile and a flash of tart across the finish, will roll into all New Belgium markets in February, 2014.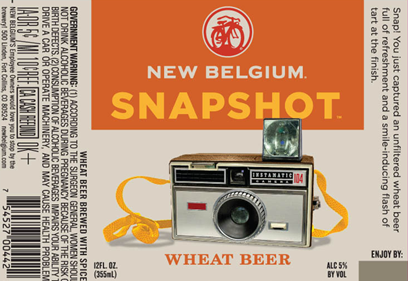 "This has been a fascinating process," said New Belgium Brewmaster, Peter Bouckaert. "We are actually blending two beers here – one that is traditionally fermented and one that undergoes a lactobacillus fermentation which creates a subtle tartness. By blending the two, we smooth out the tart and create a very refreshing and sessionable wheat beer."
Brewed with wheat and pale malt, Snapshot pours a hazy, lemon-yellow with bright white lacing. The beer opens with a citrus note from Target hops, coriander and grains of paradise, then gives way to malty smoothness and a refreshing tart snap at the finish. Snapshot will be available year-round in 12-oz bottles and cans, 22-oz bottles, and draft throughout New Belgium's area of distribution.
New Belgium will launch Snapshot Wheat with a multi-city tour, tasting and interactive photo shoot next spring. Stay tuned for details.
ABOUT NEW BELGIUM BREWING
New Belgium Brewing, makers of Fat Tire Amber Ale and a host of Belgian-inspired beers, is recognized as one of Outside Magazine's Best Places to Work and one of the Wall Street Journal's Best Small Businesses. The 100% employee-owned brewery is a Platinum-level Bicycle Friendly Business as designated by the League of American Bicyclists, and one of World Blu's most democratic U.S. businesses, and a Certified B Corp. In addition to Fat Tire, New Belgium brews eight year-round beers; Ranger IPA, Rampant Imperial IPA, Shift Pale Lager, Sunshine Wheat, 1554 Black Ale, Blue Paddle Pilsener, Abbey Belgian Ale and Trippel.
www.newbelgium.com – @NewBelgium – Facebook