Mountain Standard Reserve by Odell Brewing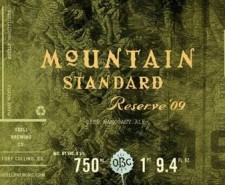 Fort Collins, Colo. – On November 2, 2009, Odell Brewing will release Mountain Standard, Reserve '09. The deep mahogany ale features local organic hops and pays tribute to the region's oft forgotten time zone.
Mountain Standard pours like a dark malty ale but delivers a distinct hoppy character with the first sip. The brew features generous amounts of organic Cascade and Chinook hops grown on Colorado's own Western Slope, creating a beer that is pleasing to both the eye and palate.

"We've experimented with locally grown hops for smaller batches brewed on our pilot system, but haven't been able to find enough hops to extend the beer beyond our tap room," said Brendan McGivney, head of production who helped with this year's harvest. "This year we sourced 400 lbs of hops from the Rising Sun Farms in Paonia, CO. We plan to brew one batch every year with each harvest."
Bottled in 750 ml cork and cage finish bottles, Mountain Standard joins Bourbon Barrel Stout and India Barleywine as part of Odell Brewing's new line of single serve offerings. The beer retails for approximately $14.99-$15.99 per bottle, and is available in the brewery's eight state distributor region (90% of which lies in the Mountain Standard Time zone).
On November 2, 2009, when daylight savings time officially ends, Odell Brewing will celebrate the return of Mountain Standard Time and the beer named in its honor with an un-corking celebration at the brewery's tap room. Festivities begin at 5:00 p.m. and include samples of the new brew paired with local cheeses and live music. For more information, visit www.odellbrewing.com.