Moody Tongue Brewing Brings Culinary Brewing to Wisconsin
(Chicago, IL) – Moody Tongue Brewery, the Chicago-based culinary brewery, continues to expand into culinary markets across America, making the state of Wisconsin its next destination for distribution.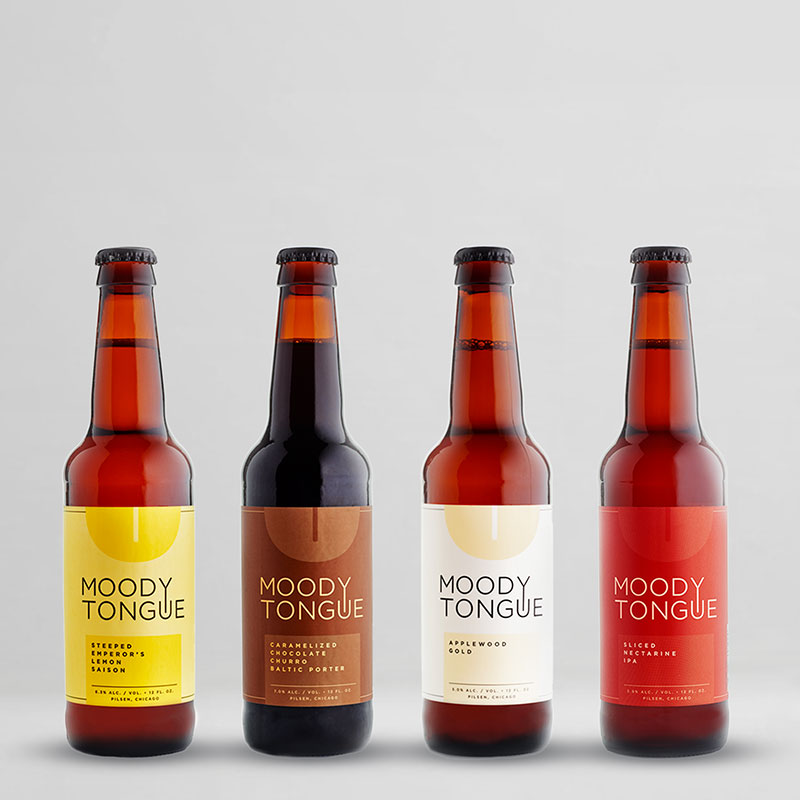 Brewmaster Jared Rouben launched Moody Tongue in 2014 to much acclaim, executing his approach to "culinary brewing": using a chef's mindset to highlight flavors and aromatics in balanced beers. A graduate of the Culinary Institute of America in New York, Rouben continued his culinary career through cooking in lauded restaurants across the country such as the Michelin-starred Martini House in Napa Valley and as an expediter in Thomas Keller's three Michelin-starred Per Se in New York City. Moody Tongue is currently offered in major cities across America including Chicago, Las Vegas, San Francisco, New York City, Louisville, Houston, and Birmingham, and internationally in Shanghai and Beijing. Moody Tongue's beers continue to be served at some of the country's most acclaimed restaurants including Per Se in New York City, Monteverde in Chicago, and Bouchon in Las Vegas.
"Since opening Moody Tongue in 2014, we've been committed to expanding our distribution into culinary-focused markets throughout the country. With Wisconsin having a robust craft beer and culinary scene, we're very excited to share our beers with our neighbors up north," explains Brewmaster and Founder Jared Rouben.
Rouben's approach to brewing emphasizes three core principles: sourcing the highest quality ingredients, understanding how best to handle these ingredients, and knowing when during the brewing process to incorporate them. Since opening in 2014, Moody Tongue has been a driving force in introducing culinary brewing to America through crafting a variety of food-forward, stylistic beers.
Moody Tongue's four perennial beers, including their Smoked Applewood Gold, Sliced Nectarine IPA, Steeped Emperor's Lemon Saison, and Caramelized Chocolate Churro Baltic Porter, are now available statewide through Breakthru Beverage Wisconsin.
About Moody Tongue Brewery
Moody Tongue Brewery (2136 S. Peoria Street, Chicago, IL; 312.600.5111) opened in 2014 under the direction of acclaimed brewmaster Jared Rouben. Moody Tongue, a nickname for a guest with a discerning palate, features "culinary brewing," Rouben's original approach that combines the worlds of brewing and cooking through the application of a chef's mindset to the brewing process. Classically trained at the Culinary Institute of America in New York, Rouben worked in Michelin-starred kitchens such as the Martini House in Napa, CA, and Thomas Keller's Per Se in New York City before moving to Chicago to pursue a career in brewing. In fall 2016, Moody Tongue introduced a tasting room to its brewery in the Pilsen neighborhood of Chicago, serving year-round and limited-release beers in an intimate mid-century modern atmosphere with Michelin-minded service. The Tasting Room is open Thursday from 5 p.m. to 11 p.m.; Friday from 5 p.m. to 12 a.m.; Saturday from 12 p.m. to 12 a.m.; Sunday from 12 p.m. to 11 p.m.; and Monday from 5 p.m. to 11 p.m. The Tasting Room is closed Tuesday and Wednesday.
moodytongue.com – @MoodyTongue – facebook