Montanya Distillers & Elevation Beer Company Collaborate on Montanya, A Horchata Imperial Porter
(Crested Butte, CO) – Montanya Distillers and Elevation Beer Company, two Colorado companies just over the Sawatch Range from one another in central Colorado, have suffused their unique flavors to create a Horchata Imperial Porter called Montanya. This limited edition porter came to life after Elevation Beer Company aged its award-winning Señorita Porter in Montanya Distillers' Oro Dark Rum barrels.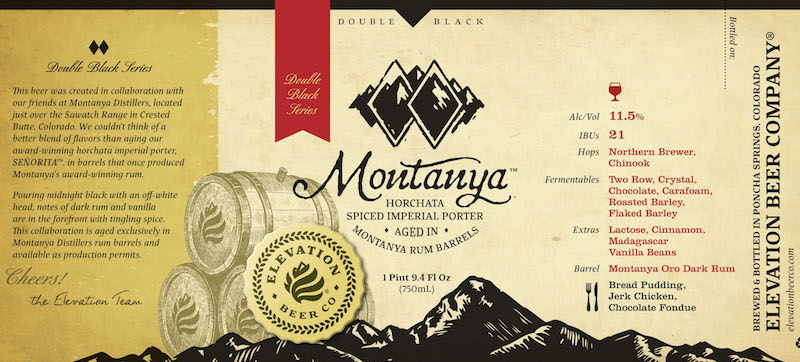 "One of the most fun things we get to do in this business is collaborate with other exceptional companies," said Karen Hoskin, president and co-founder of Montanya Distillers. "After about three years, we no longer use our American White Oak barrels to age more rum, but they are perfectly primed to age a rich imperial porter at Elevation. These barrels have quite a Colorado lifecycle. We are really honored and excited that Elevation finds us worthy of this collaboration."
The end result is Elevation Beer Company's "Montanya", a beer that pours a midnight black and has notes of dark rum, sweet milk and vanilla with a tingling spice and a smooth rum taste. Coming in at 11.5% ABV and 21 IBUs, this beer has a medium body and a balancing hop bitterness with Northern Brewer and Chinook hops. It goes great with bread pudding, jerk chicken or even chocolate fondue.
"The flavors that result from Montanya's fresh rum barrels give new life to one of our favorite beers," said Alexander 'Xandy' Bustamante, co-founder of Elevation Beer Company. "We've brewed Señorita for three years, but we really upped the game when we started using Montanya's rum barrels. We were so pleased with the result that we felt it deserved Montanya's name. Montanya means mountain in many languages, so the name is a great representation of where both companies do our work." 
Montanya Horchata Imperial Porter is available, while supplies last, in 750mL bottles and on draft in Colorado. It will be available in Washington this April and in Texas and Arizona later this summer.
Other Montanya Distillers collaborations with Colorado Companies include:  Voormi of Pagosa Springs, Colo. (apparel), Stripped Mixers of Snowmass, Colo. (Mojito Mix), Red Ram Mixers of Erie, Colo. (Hot Buttered Rum mixer), Haiku Moving Company of Silverton, Colo. (custom artist rendered headwear), Dram Apothecary of Silver Plume, Colo. (bitters), etc. 
For more information about Montanya Distillers visit MontanyaRum.com or on Facebook at Facebook.com/MontanyaDistillers. For more information about Elevation Brewing Company visit ElevationBeerCo.com.
About Montanya Distillers
Montanya Distillers, located in Crested Butte, Colo., is a craft rum distillery in the heart of the Colorado Rocky Mountains. Its distilling process uses old-world artisan traditions, combining science with art. By using just four ingredients, Montanya has created aged rums that have been awarded 18 Gold and Silver medals in international competitions. These rums reflect both Montanya Distillers' mountain culture and a new American rum tradition. Montanya produces Platino Light Rum and Oro Dark Rum and was named the 2013 Craft Distillery of the Year by the American Distilling Institute. Learn more at MontanyaRum.com.
About Elevation Beer Company®
Elevation Beer Co. is an award-winning artisan microbrewery located in Poncha Springs, Colorado, just minutes from Salida, Monarch Ski Area, Arkansas River Headwaters, and over seven 14,000-foot peaks.  Elevation specializes in brewing large adventurous beers for the craft beer fanatic, while trying to elevate the perception of what beer can be. Learn more at ElevationBeerCo.com.